Are you considering Notgrass History, but not sure how or if you can use it with multiple grades? This blog post breaks down exactly HOW you can use Notgrass History with ALL of your kids.
Years ago I happened to get a catalog in the mail from a company I had never heard of before. It got thrown onto the counter with a large pile of junk mail. Later that day, my oldest came up to me with this catalog and wide eyes. She looked at me and said, "Mom, I want to use THIS!" 
The rest is history! Literally 😉 That catalog changed the way we do History. That catalog was from Notgrass. 
Since that year, we have gone through all three of their middle school programs and will be cycling back through America the Beautiful. My oldest will be using their high school program, and my youngest will be using their brand new elementary program. 
All three kids will be using Notgrass History and I am SO excited about this school year! 
I admin the Notgrass History Facebook group and I see questions every week from moms wondering how in the world they can use Notgrass History for multiple ages, so I wanted to write up a post about exactly How to Homeschool Multiple Ages with Notgrass History.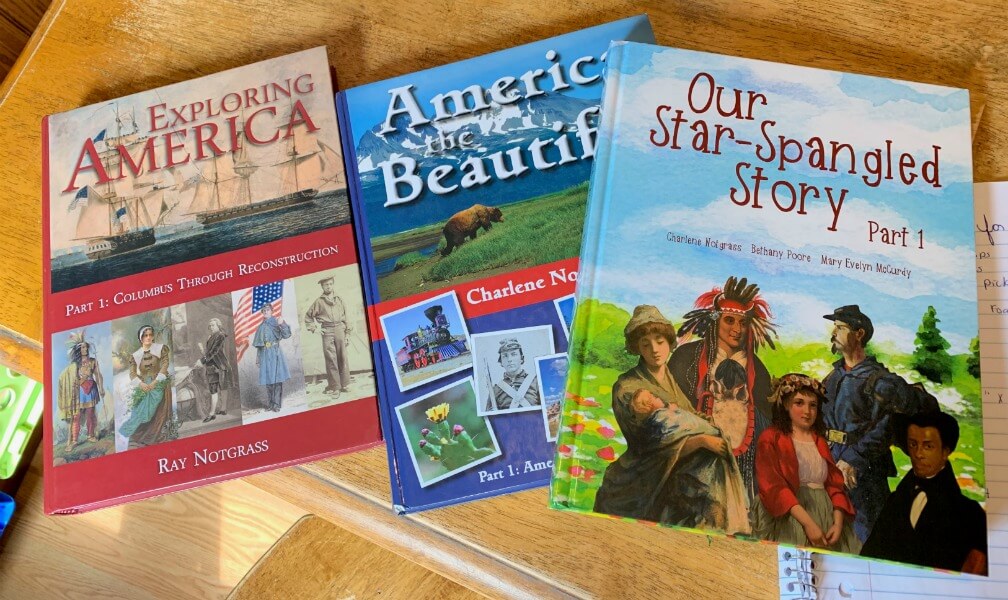 Why Homeschool Multiple Ages Together
Before we go into the HOW to let's start with the WHY. Why homeschool your children together using the same program? There are so many programs out there, why not let the kids pick and choose what they want to do? 
Well, we have done that before. And, while I'm thankful that my kids learned while they all studied different topics and time periods, I also feel like they missed out on SO much by being separate and not together. 
You see, I love the one-room schoolhouse concept. I love the idea of all of us working together and studying similar topics. Particularly when it comes to history. Homeschooling history is my favorite part of the day, and I missed sharing that love with all of my kids. 
But, not only do I miss it, I feel like the kids miss out too. So, here are a few reasons to consider homeschooling multiple ages together. 
It Encourages Group Learning
The one-room schoolhouse model encouraged older and younger students to work alongside together teaching and finding solutions on a similar topic. Allowing your children to work together on history encourages them to study together, gather the information together, and discuss historical topics together.
 This includes group projects, timelines, literature studies, and more. This encourages a collaborative environment and can even encourage critical thinking skills. 
Instills the Importance of Family
I love how homeschooling is truly a lifestyle choice. We live together, we learn together, and we come alongside each other throughout the homeschool day.  Notgrass History encourages the concept of learning together as a family.   When all the kids are taught together, they can help each other along the way. 
I also know that when my kids look back on our homeschooling years they are going to remember a mom who loved teaching and learning with them. They are also going to remember their siblings gathered together by their side all at the table every morning.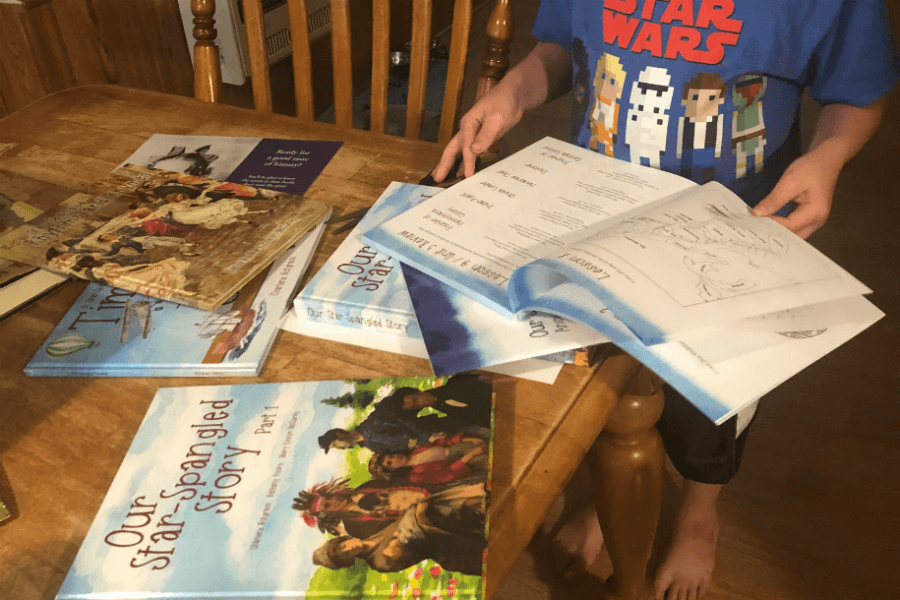 How Notgrass History Makes Homeschooling Easy
Notgrass makes combining multiple ages in your homeschool super easy. All of their guides cover a 4 year age range. Meaning if you have kids within that age gap you can use one program for all of your children. 
Our Star-Spangled Story 

covers elementary grades

America the Beautiful, Uncle Sam and You and From Adam to Us all cover middle school grades

Exploring America and 

World History both cover the high school age range
But, wait? What if you have one in elementary, one in middle school and one in high school? How can you use Notgrass History across such a wide age range? 
By focusing on American History. 
This year we will have the age range mentioned above and guess what? We will be using Notgrass History. They make it super easy with this comparison chart. 
You can use this to ensure that all of your children are covering the same topic at the same time. This makes homeschooling so much easier on mom because everyone is studying the same thing.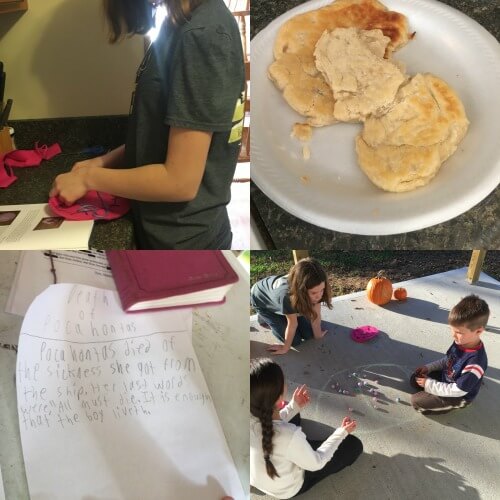 Tips for Homeschooling Multiple Grades with Notgrass History
Notgrass middle and high school guides are designed to be worked on independently. So, both of these age ranges require little work from mom. Easy peasy right? 
But, when you are homeschooling multiple grades with Notgrass there are still a few tips to make it easier on you and more fun for the family. 
Project Days- We LOVE projects and actually set aside one day each week to work on them. Notgrass makes this SO easy because all of their projects can be enjoyed by the whole family. See some of our favorite Notgrass History projects from America the Beautiful here.
Read together- Choose one of the literature selections from the middle or elementary guides for morning time. This allows the whole family to listen in on an amazing book. We have enjoyed all of the recommended literature selections over the years.
Get the kids involved- Let your older kids read the younger child's literature selection out loud. This takes some of the work off your plate, helps cultivate relationships amongst siblings, and expands your other children's learning.
Field trips- Who doesn't love a good field trip? Learning experiences make history more fun. See some field trip ideas for Notgrass History in this field trip guide.
If you are looking for an easier way to teach history, a better learning experience for your children, and just more joy in your homeschool days, then I truly recommend you checking out Notgrass History. It is our go-to choice and we have enjoyed every guide we have used over the years.
To see more information on Notgrass History check out the following links: