Interested in Notgrass History? I am sharing a peek into Notgrass Middle School History, Uncle Sam and You. It is a great homeschool civics program for your middle schooler.
I've shared before, that Notgrass History has been one of our favorite homeschool history programs through the years. Their combination of literature and textbooks can't be beaten. We thoroughly enjoyed America the Beautiful in 6th grade, for 7th grade we enjoyed Charlene Notgrass' favorite Notgrass middle school history program, From Adam to Us. For 8th grade history, I was really on the fence about bumping her up to high school or waiting a year.
After chatting with the Notgrass family at the Great Homeschool Convention last year I decided to go ahead and do another year of middle school history so we could have a year of Notgrass civics in. I am so glad we did!
The History
Before studying Notgrass civics, we had not really touched on government at all. That is why I really enjoyed this gentle introduction to the U.S. government in this homeschool curriculum. Uncle Sam and You answer questions like,
How do elections work? What does the President do all day? Who decides where stop signs go? What is Labor Day?
This middle school history curriculum was created for students in grades 5 through 8 and guides your family on an engaging tour of the American government.  
Another favorite part of this history curriculum from Notgrass is the studies on all of the different holidays that are important to our country. This year we have learned about the Bill of Rights Day, Labor Day, Independence Day, Martin Luther King Jr Day and many more. Each chapter on holidays goes in depth on the why behind the holiday, where it came from, how we could (or should) celebrate it and much more. Some holidays we hadn't really heard of (or celebrated) other than maybe in passing include:
Pearl Harbor Remembrance Day
Bill of Rights Day
The Convening of Congress
Lief Erikson Day
To learn more about what you may study during this year of homeschool civics, be sure to check out Uncle Sam and You Table of Contents and more in Using Uncle Sam and You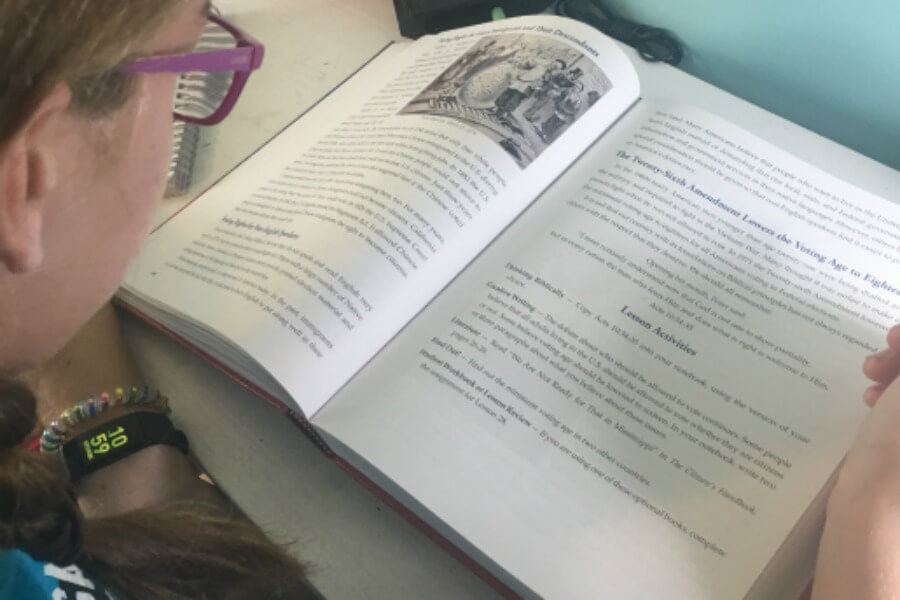 Notgrass Literature
One of our favorite parts of Notgrass History has without a doubt been the literature selections. Encouraging a love for literature in our kids is SO important and Notgrass treats it as such. Some of the amazing books your child will be reading while studying American government are:
Lincoln: A Photobiography

by Russell Freedman 

A Letter to Mrs. Roosevelt

by C. Coco De Young 

Brighty of the Grand Canyon

by Marguerite Henry 

Basher Five-Two

by Scott O'Grady 

Misty of Chincoteague

by Marguerite Henry

The Long Winter

by Laura Ingalls Wilder 

The Wright Brothers: How They Invented the Airplane

by Russell Freedman 

Lost on a Mountain in Maine by Donn Fendler
My daughter's favorites were a Letter to Mrs. Roosevelt and Basher Five-Two (which surprised me!).
In addition to the literature selections, Notgrass History Uncle Sam and You also includes a Citizens handbook. This book includes letters, memoirs, songs, speeches, poems and more that are related to American government, politics, and civics.  We particularly enjoyed the Virtue Stories from Americans who served and sacrificed of themselves for the benefit of others.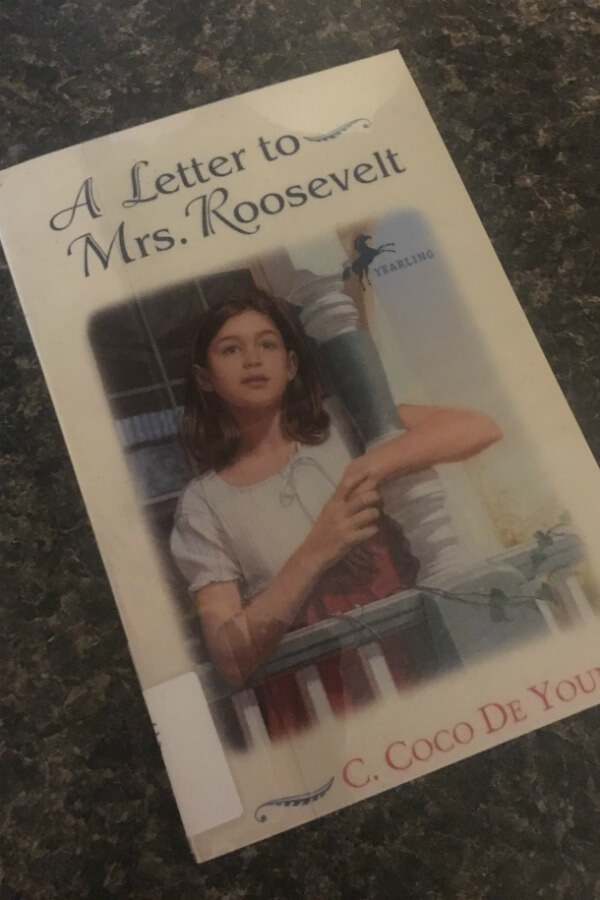 The Projects
We really enjoy projects and set aside a day each week to work on them. Uncle Sam and You did not disappoint! (go here to see our favorite projects from Notgrass America the Beautiful)
I didn't grab a lot of pictures from the projects because as my kiddos get older they are less excited to get in front of the camera. I always want to respect that.
A few I wanted to share are the Bill of Rights Wall (we chose to make posters instead) and our Constitution and Citizenship Day Immigrant Dinner.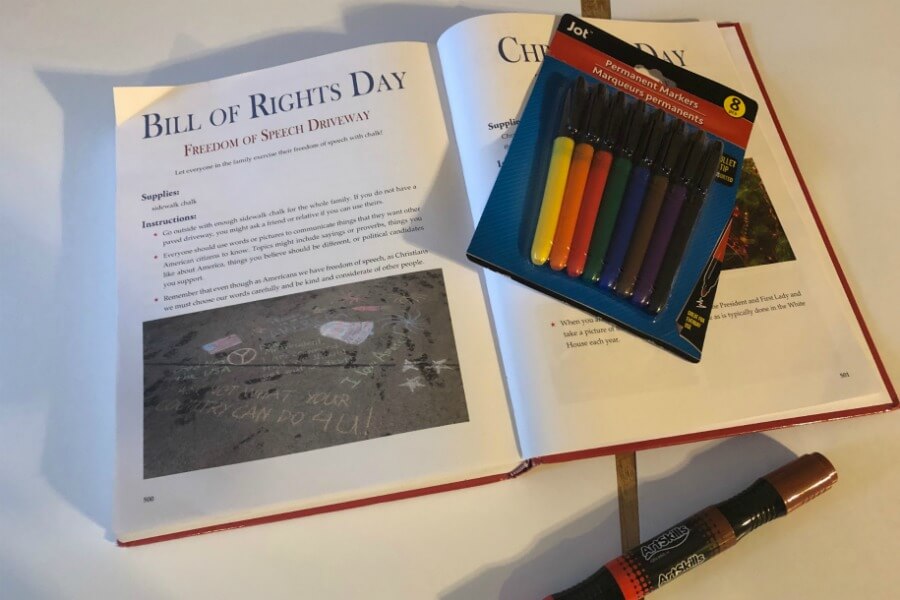 We made some tweaks to both projects to fit our needs and had a lot of fun with them.
For the Bill of Rights Day, we created posters that communicated what we wanted our fellow Americans to know. I loved that while working on this project that encouraged freedom of speech, the creators of the curriculum included the reminder that as Christians we need to choose our words carefully and to always ere on the side of kindness and consideration.
For our Immigrant Dinner, we each pretended like we were a person who immigrated to America. We answered questions like where we came from, why we chose to come to America, why we were excited to be here, and what we planned on doing for a job. We then celebrated with a big dinner that included decorations and food that celebrated our newly acquired American citizenship.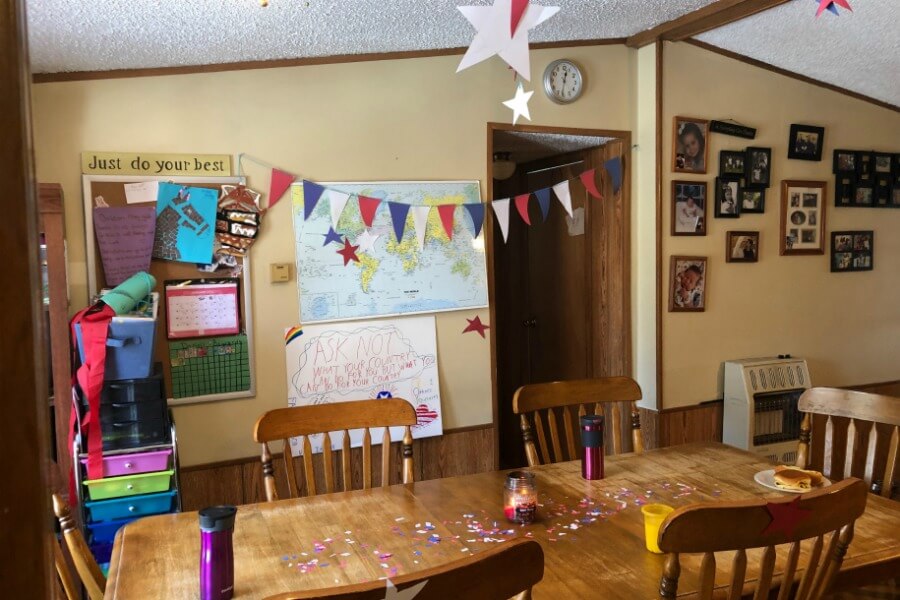 If you are looking into a middle school history curriculum, I can't rave enough about Notgrass History. It truly changed the way we homeschool history and I am so grateful for the Notgrass family and this amazing homeschool history curriculum. 
I interviewed Charlene Notgrass on the podcast, be sure to check it out and grab a free gift from the Notgrass family.