Homeschooling a distracted child can be a challenge. It can make for a long homeschool day and a frustrated mom and child. Here are some tips for how to homeschool the distracted child. 
I'm working with my youngest while my older two are busy with their school work. We finish our lesson and I check on the other kids. One has her work complete, the other is staring at a blank page. She insists she was trying, she was just distracted…
A distracted child, this has been a common occurrence in our homeschool through the years. When left undealt with it means long homeschool days, a frustrated homeschool mom, and a child who is constantly unable to focus.
So, what has been the solution to homeschooling a distracted child?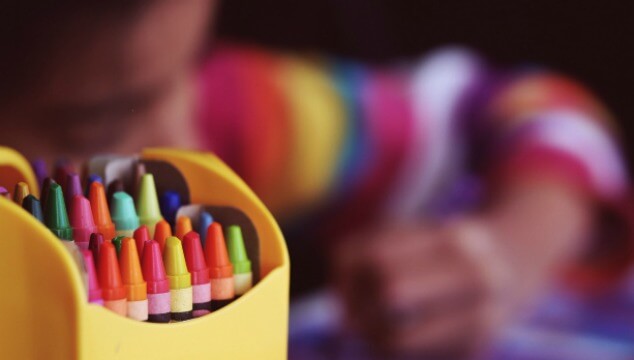 Eliminate Distractions
This has been number one for my distracted kiddos.  Our homeschool room is also our playroom. This means it is bright and colorful and full of toys. It also has numerous windows all around. Not the best environment for a distracted child. So, what have we done to eliminate distractions?
 Keep school separate from play. Our room has an imaginary line down the middle. Toys don't go on the play side during school. We also make sure all toys are put up before we start school.
Keep child away from windows.  The girl's table is now against the wall away from the windows.  We also make sure the blinds are closed throughout the room.
Allow the child to work in a private area. One thing that is kind of frustrating for me, is that we have this nice school room, yet the girls rarely actually WORK in it. Why? It's too distracting while I work with their brother. So, I let the girls go into their room, into our dining room, or even do school on the couch. Wherever they feel the less distracted.
Respect school time. This means no tv on, no cell phone, music, or visitors. These are all things that distract a highly distractible child. Include this rule for yourself and all children.
These tips for eliminating homeschool distractions are huge in helping your child focus in school.
Try to Understand Your Distracted Child
For the longest time, I blew off my child's ability to get distracted. I blamed her. I told her to just stay focused. I got frustrated. I never tried to understand my distracted child.
I was wrong.
If you have a child who is easily distracted it is SO important to try and understand the way their mind works. For my daughter, every noise, every movement, causes her mind to stray. The windows open gets her mind wandering. Her brother playing in the other room, makes her wonder what she is missing. Her mom on the phone means that problem she doesn't understand can wait for a while. Hey, the whole lesson can wait, right?
When we try and put ourselves in our children's shoes we can begin to understand how their mind works. Talk to your child. Ask how you can help. This communication was key for my child overcoming her ability to avoid distraction.
How to Help a Child That Gets Distracted
As parents sometimes we have to face reality.  And one area I had to overcome when it comes to homeschooling my distracted child is the reality that my expectations were too high.  The truth is when we are parenting a distracted child we have to be realistic. Here is our reality:
Shorter lessons
A child who is easily distracted needs to have lessons that are shorter than what you may expect. This helps them keep their focus longer. I let mine do half a lesson, take a break, and come back. Or, if it is a particularly difficult subject or topic that she is working on, I set a timer and when it goes off she can be done with that subject.
Interest led learning
The BEST thing I did for our homeschool was allowing my kids to choose what they learned this year in some subjects. By doing this the girls were able to choose things that will hold their interest. For a distracted child, this is SO important.
Sometimes together isn't better
My girls learned together for most of their homeschooling days. But, this year we separated them. It turned out learning together was more of a distraction than a help. This doesn't mean this will be the case for your child, but consider it as a possibility if the time comes and it is.
Realize you can't set it and forget it
What does this mean? Your distracted child may not be able to learn independently as early as some kids. They will require gentle reminders. They will need you to check in on them. They may need you to sit next to them or stay in the same room until they are able to learn how to best avoid distractions.
I also give some great tips for eliminating homeschool distractions for you AND your child in this video. 
Resources that can help you and your distracted child
There are some resources that have been a huge help to me and my distracted child. They may be of benefit to you as well.
These posts are some great ones by blogging friends of mine:
Are you homeschooling a distracted child? What tips and resources would you add to this list?
Related Posts:
---
Need more encouragement homeschooling your distracted child? Let's chat about how you can create an environment conducive for learning.