Are you looking for a history program that will make history FUN for your elementary-aged kiddos? Check out Notgrass History, Our Star-Spangled Story! This hands-on history program is perfect for the busy homeschool mom and is guaranteed to be a fun experience for your whole family! 
I remember falling in love with history years ago. As a child. I went to public school, but my mom still instilled a love of history in me through good books, quick stops while on long road trips, and documentaries. 
I truly LOVE history. And, I wanted to instill that love for history in my kids. So, I did many of the same things. I introduced my kids to high-quality literature at a young age, we have stopped at so many historical points through the years, we visit historical ships and traveling museums that visit our area, and the girls quickly fell in love with history as well. 
But, the boy? Not so much. At 8 years old he kind of dreaded history time. He liked books. But when it came to titling the subject "history" he groaned. He didn't have our love for the historical stops, or even the traveling museums. It saddened me, and I hoped as he got older it would change. 
And, now, thanks to Our Star-Spangled Story, I can honestly say that he LOVES history. I realized this love when we were at the library and he got excited over a book on D-Day. Then, when we went home, I showed him a documentary on D-Day on Amazon. I went ahead and added a few other shows as well, and he began watching them. For FUN! He has caught the history loving bug and it thrills this history loving mama! 
So, let's take a look at Our Star-Spangled Story and how it can add fun to your homeschool.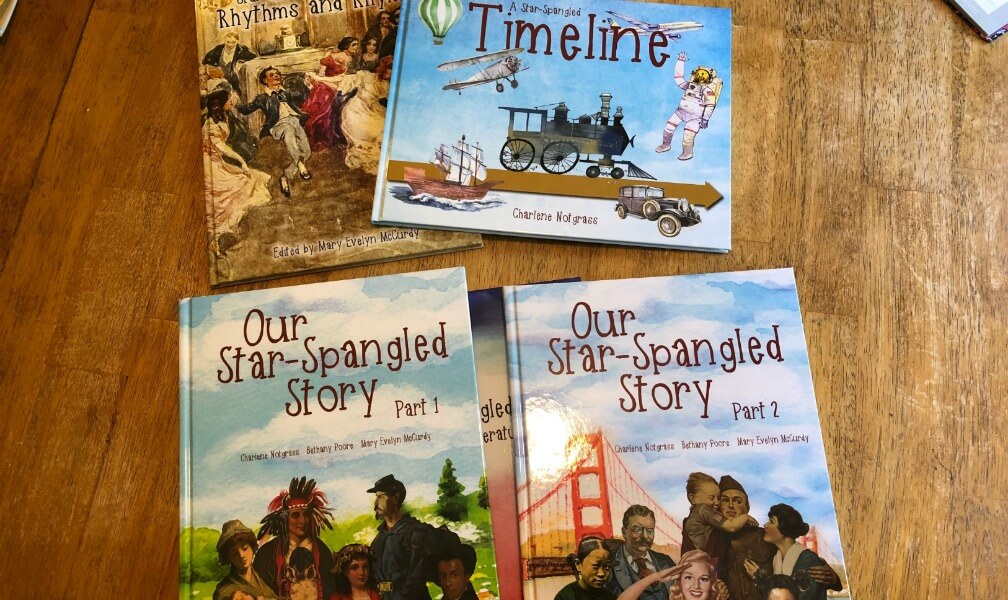 What is Our Star-Spangled Story?
Our Star-Spangled story was created with the busy homeschool mom and the young kiddos in mind. I remember years ago Charlene asking me what I would want in a history program for my elementary-aged kids. She listened, and I know I am not the only momma she asked. I LOVE that the Notgrass family researched what moms wanted, and then delivered. 
Our Star-Spangled Story is a one year American History program designed for students grades one through four. It includes 30 units with three lessons each. Meaning you can only do history three days a week and you will still easily complete the program in one school year. The lessons are written in a narrative style with a Christian worldview.
Our Star-Spangled Story includes:
Our Star-Spangled Story Textbooks 1 and 2-

The textbooks are SO easy to read, and include beautiful photos of the people and places the kids are learning about. 

My Star-Spangled Student Workbook-

The The workbook includes one activity page for each lesson. These include a variety of unit reviews, drawing or writing activities and coloring pages.

A Star-Spangled Timeline-

Helps students get a better sense of what was happening during each particular era. This is an easy way to review material in the lessons and is assigned at the end of each unit.

Star-Spangled Rhythms and Rhymes-

This is a collection of 60 songs, poems and dances enjoyed throughout American history.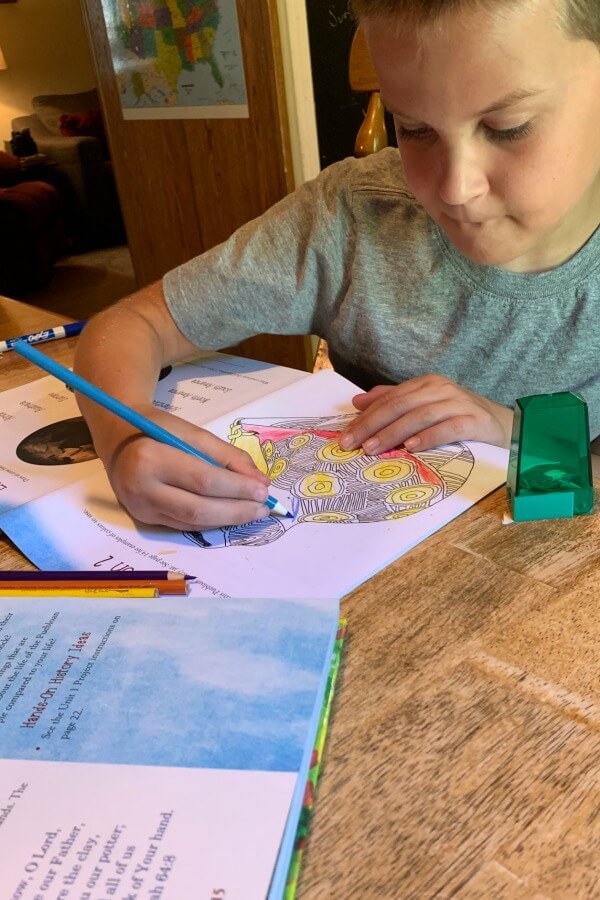 At the end of each lesson, there is a blue box that includes a variety of activities you can choose from. These include:
Mapwork

Review questions

Workbook activities

Hands-on History ideas

Literature selections 

Unit Projects
These are NOT a checklist, but instead a list of suggested activities. You can pick and choose what you want to do with our child to help enforce the ideas learned in the lesson.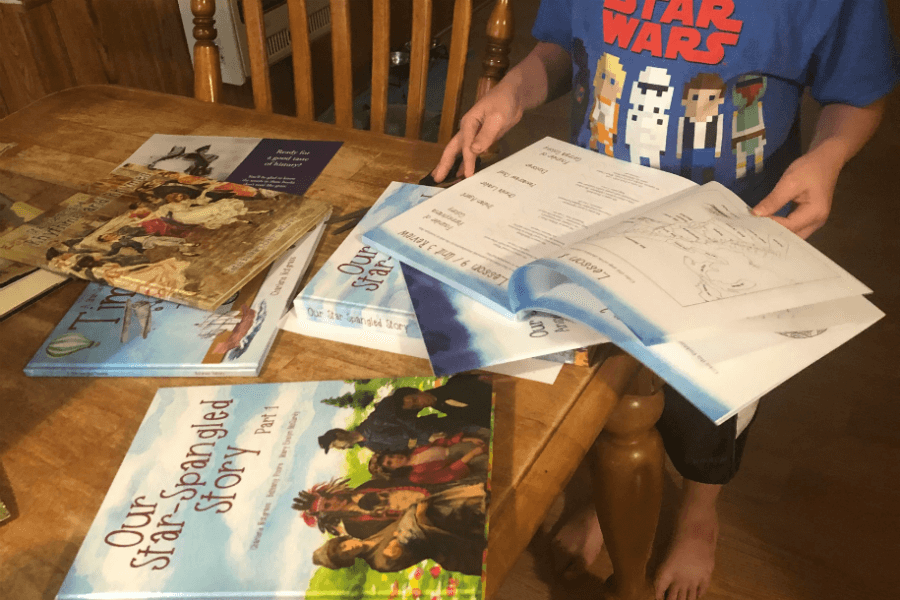 Our Favorite Things from this Elementary History Program
Open and Go Homeschool History Program
I love the step by step guidance and encouragement that Charlene writes out at the beginning of textbook one. She breaks down what supplies you will need, how to use the books, how to help struggling students, a sample week for the mom who needs it laid out for her even more, answers frequently asked questions, and shares what she hopes a homeschool family will get from this program. It truly is ALL laid out for you. You can't beat how easy it is to use this amazing program. 
My son has discovered that he is a reader who can't read (he has dyslexia as well as other special needs). He discovered this through audiobooks over the summer. Now, he can't get enough of good quality literature, and Notgrass for sure has helped this love for literature. The books assigned in this curriculum include: 
Benjamin West and His Cat Grimalkin

by Marguerite Henry 

Toliver's Secret

by Esther Wood Brady 

Freedom Crossing

by Margaret Goff Clark 

Farmer Boy

by Laura Ingalls Wilder 

Mountain Born

by Elizabeth Yates 

Emily's Runaway Imagination

by Beverly Cleary  

The Year of Miss Agnes

by Kirkpatrick Hill 

Katy

by Mary Evelyn Notgrass 
They also include a bonus download sheet of even more suggested literature selections. I had read some of these books before with my girls, but there are others we had never read before, and we have really enjoyed all that we have read so far.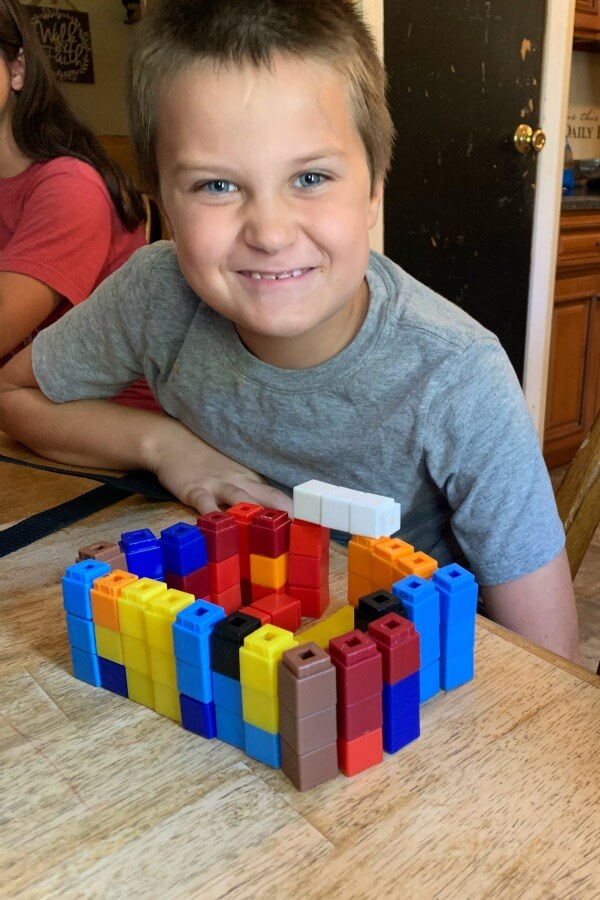 Hands-on History Suggestions
At the end of each unit, there are suggestions for hands-on activities. These include things like imaginative play where the child is a leader of a new colony and must find a good place for the first settlement, building block ideas like building a trunk to carry books across the Atlantic ocean, and so much more These are the highlight of the day for my ADHD kiddo and really helps him learn to love history in a fun way.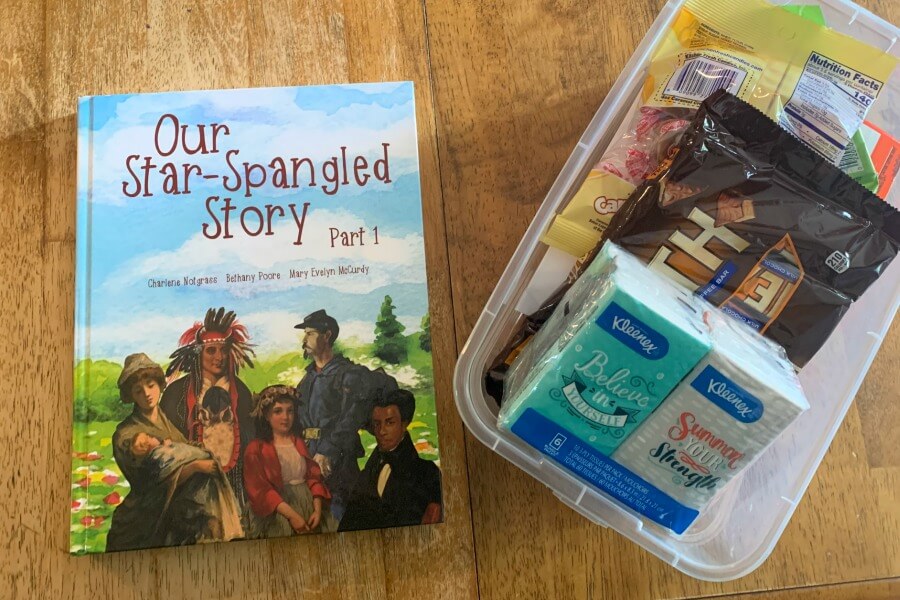 Unit Projects for History
We have completed a few unit projects and my son has LOVED them. These are assigned at the end of each unit and include fun ideas to help the kids connect with history. They are all super easy projects that require materials that most of us have around our house. But, if you like to plan ahead and think you may not have some of the items, there is a unit project supply list on Notgrass.com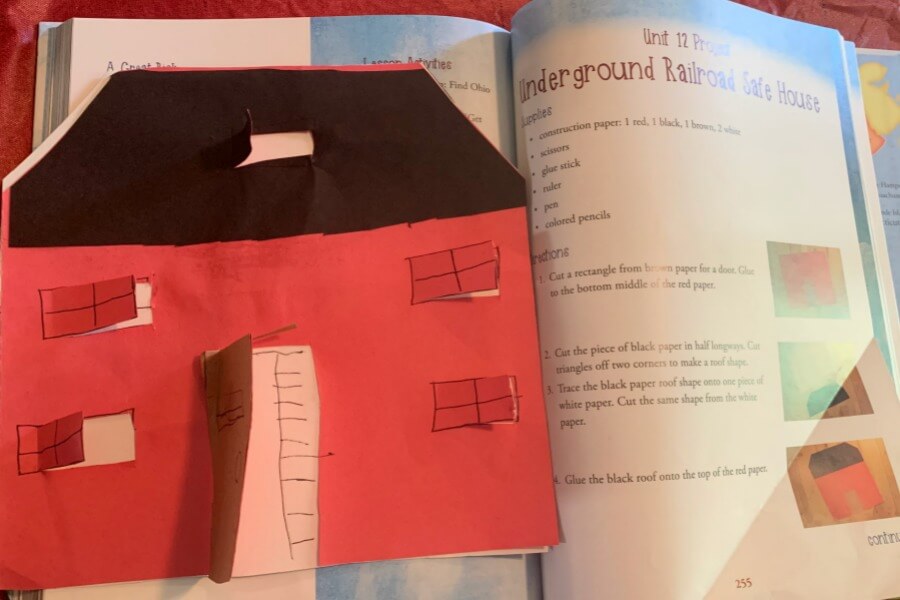 So, if you are looking for an amazing history program for your elementary-aged kiddos I can't say enough good things about Notgrass History's Our Star-Spangled Story. It has truly created a love for history in my son and I am so grateful!
Additional Resources: