Do you have a child who hates math? I had no clue how to homeschool the child who hates math, and realized I was doing it ALL wrong! Here's how to do it right! 
I remember my worst day of school well. I was in 5th or 6th grade, and I was sitting in class when all of a sudden my parents walked in. They did NOT look happy. The day ended with the weeks of bad math papers being pulled out of my desk and me quite frankly being humiliated.
Not, my finest moment. You see, I was BAD at math. Really bad. And I didn't want my parents to know how bad it was. But when report cards came in the mail I could no longer hide it.
I'd like to say that after that year my grades magically got better. They didn't. Honestly, I passed high school math because I copied off of a boy in my class. College math wasn't much better, but I scraped by.
So, when my daughter informed me she hated math too, I knew where she got it from 🙂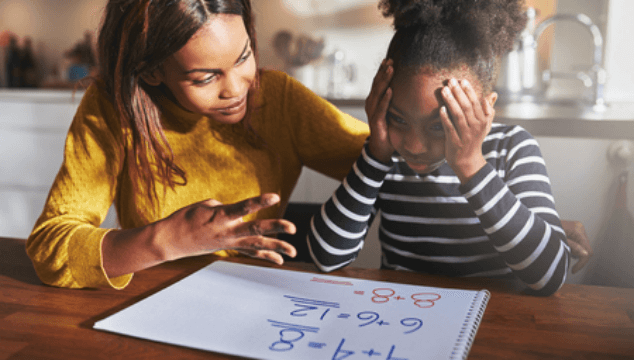 If you have a child who hates math I'd bet you've experienced a few of these moments:
Tears at math time
Frustrated child and frustrated parent
Switching curriculum over and over again
Wondering if you are even EQUIPPED to teach this child
Feeling like you are NEVER getting through to them
I've been there, believe me, and I'd love to tell you it gets easier, but in many ways, it doesn't. Some kids are just NOT cut out for math.
Now, does that mean we need to stop pushing them? No. Does it mean we throw in the towel? No. Does it mean we keep buying and buying curriculum until something finally clicks? No.
It means we just need to BREATHE.
How to Homeschool the Child Who Hates Math
Recognize it's not your fault
I think this is where my parents were that day they came into the school. They were at their wit's end and had NO idea what was wrong. They felt like they failed, and as homeschool parents, we have the weight of our child's whole education on our shoulders. There's no one left to blame.
However, when it comes to a child-hating math, it's really NOT your fault. Nothing my parents would have done differently would make me like math anymore. Some people just don't like math. They don't understand it.
If you think about it, there are many things your child DOES understand and even thrive in.  We all have strengths and we all have weaknesses. These are how we were created, and God has a plan for each one of our lives. For some of us, that plan may not include mastering algebraic equations 😉
Realize there is NO perfect homeschool math curriculum
I searched and searched for a math curriculum that would make my daughter LOVE math. Guess what? There wasn't one. I tried the hands-on approach. Nope. I tried mastery and spiral. Nothing helped. She still didn't like math. We ended up settling on a program for a few years that worked. CLE Math. It didn't make her LOVE math but it was at least less of a struggle.
Then it got to the point where she and I were butting heads each and every day over math. I couldn't teach the way she learned, and she couldn't learn from the way I taught, so we switched again. We are now using Teaching Textbooks. Is it a great program? Yes! Does it get the job done? Of course! Does she still hate math? You bet! No program is going to make her love it.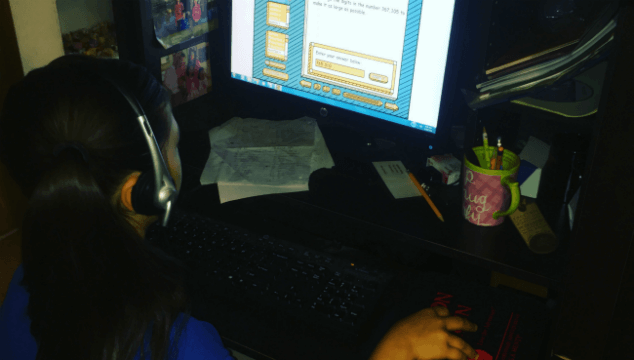 Relax
 One of the best things I have done in our homeschool was relaxed. Yes, even in math. For us, this came from simply setting a timer at math time. Once the timer goes off, she's done with math. Even if she only answered 2 out of 21 problems. She's done. Life will go on. No subject is worth tears, and headaches, and hating school. Not even math.
This was a big step for me. I know math is important. But, I also know my daughter's heart. I know her ability. And I refuse to sacrifice our relationship and her love for learning on math. Now, let me assure you we standardize test each and every year. She scores well above average in Math.  And I honestly think a good reason for that is because we have let her work at her own pace. Not pushing her. Not demanding she learns something when she is not ready.
What we Forget about Homeschooling
Moms, we too often times forget we homeschool so we can be flexible and give our children the best education possible. Our school days don't have to look like public schools. We can do things our own way, and teach to the HEART of our children. This includes EVERY subject in our homeschools. Even math.
Can I Homeschool a Child who Hates Math? 
So, if your child hates math, it is okay. You can still homeschool them!  I encourage you to recognize that it is NOT your fault. You didn't make them hate math because you chose to homeschool. Also, realize that there is NO perfect curriculum. Quit buying every new math program out there, find one that kind of works, and stick with it. Nothing is going to make them want to wake up and jump into a math book first thing each morning. And the last thing is to RELAX. The world will not end if your child is still in Math 6 in 7th grade. It is okay if you don't finish each lesson every day. This does not make you a homeschool failure. It just means you have a child whom you have allowed to work at their own pace.
And that is the beauty of homeschooling 🙂
Does your child hate math?
Related Posts: