Sharing our homeschool curriculum choices for a 9th grader, 7th grader and 2nd grader. Also sharing American History Morning Basket choices. 
Oooh, guys!! Can you believe we made it through another school year? This year has been a whirlwind for us. My husband switched jobs, I lost my grandma, had fairly major surgery, and our homeschool group started our first "real" co-op. My girls did a public speaking class at co-op, and all three kids did gym classes, art, and other fun activities with our group.
It's been an interesting year!
As we end the current year I have a 6th grader, 8th grader and 1st grader. You can see our homeschool curriculum choices from last year here.  But, you want to know about this coming year right? So, let's go!
(Scroll all the way to bottom to see a video of our microscope choice)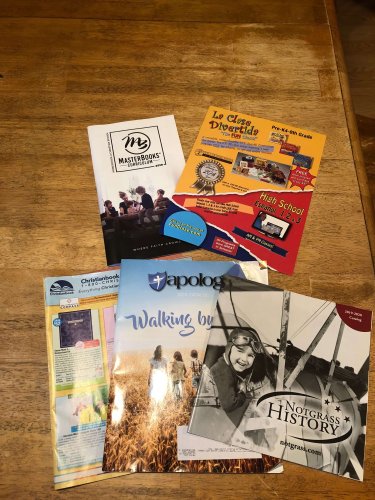 My Oldest (9th Grade)
This girl. She has a heart of gold. Has a love for missions. And is praying about God's direction for her life. She will be spending 2 weeks this summer working at our local bible camp, and will also be spending a week at Worldview Academy . If I'm honest, God is challenging me with this one. Letting go as they get older is not easy, and knowing that God may be calling her outside of MY comfort zone? That reality has brought me to my knees again and again. I can't wait to see what God has in store for her, but also, want to hold on to the few years we have left with her at home.
After years of stressing out about homeschooling high school, we completed our first year (kind of). It was an interesting transition for sure. She realized the reality of how much more intense high school programs are. Our 4 day school week plan doesn't work as well with high school work, and that has been difficult for all of us to acknowledge. We made a few changes over the course of the year, including switching to Mr. D Math and dropping Spanish.  But, we made it!! And are ready for official high school next year.
I was really torn about our Spanish choice. We ended up going with The Fun Clase because of some kids he had working in his booth in Cincinnati. They seemed to thoroughly enjoy the classes, and I had them talk Spanish to my daughter for a good bit. They were fairly fluent considering they had only made it through Spanish 1. We are also going to give Masterbooks a try for an awesome looking Apologetics course. She completed an Outschool Class this spring on the Hunger Games and LOVED it. So, we will be doing some more of those courses to round out her English credit.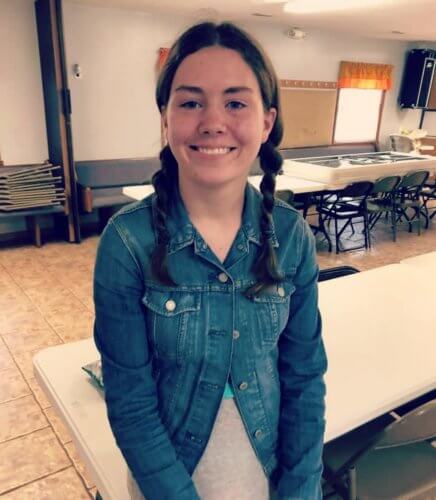 My Middle (7th Grade)
From the time this girl was born she has loved animals. God has given her compassion for furry creatures that cannot be matched.  Her goal is to one day be an Equine Rehabilitation Therapist. She wants to work with horses who have been injured, abused, and that need love and nurturing to recover from their injuries. She will be taking a horse to the county fair for the first time this year and is also continuing with her volunteer work at a local animal shelter. She is SO smart. Like REALLY smart. But, she doesn't realize it. Once she gains some confidence in her ability, she will be unstoppable. I can't wait to watch her grow in her love for the Lord and of course animals in the upcoming year.
The past school year for her went really well. We added to her human anatomy course with dissections and even some job shadowing and watching surgeries at a local vets office. She continued with local art lessons and auctioned off her first piece of artwork this spring. She is an amazing artist! We stayed pretty on course with our plans for her all year and she did extremely well. We will be making some changes in math in the upcoming year but all her other courses are programs she has used before.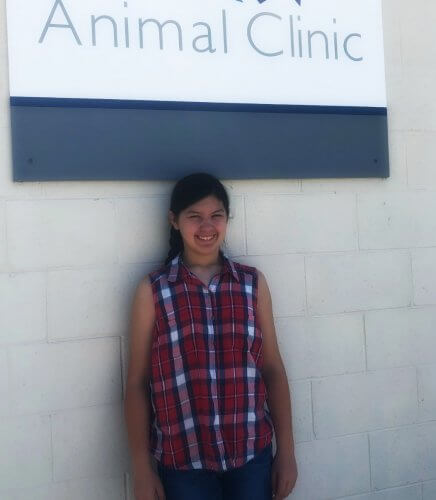 My Youngest (2nd Grade)
My boy. Oooh, he has grown SO much this year. He is reading! Fairly well considering his special needs (Apraxia, ADHD, Dyslexia, Dysgraphia). He is working ahead in math, and about 6 months "behind" in reading. When we started the year he was 15 months "behind" in reading. So, he really has improved a lot. One big resource that has helped us is Reading Eggs. We tried a lot of other reading programs before (Nessy, All About Reading) and enjoyed them. A lot. But, he would hit a wall with his speech or spelling ability and not be able to move forward. Reading Eggs has allowed him to continue on despite his other struggles and work at the level in each area where he IS. Which has been huge!   The past few years we haven't focused a lot on science or history so we could just get him on track with reading. We've read a lot of great books, and done experiments or studies related to those books (see how we did this with BFB and Apologia here) as he's been interested or in our co-op class twice a month (that I teach). This coming year though we plan on being more intentional about these areas.
Mathwise, we have really enjoyed MathSeeds, but do plan on switching to Teaching Textbooks in the coming year. Math Seeds has begun moving really fast as he moved into the 2nd-grade program, and it also has been teaching in a method that Daniel has struggled with. We know that Teaching Textbooks is a solid program, and we have enjoyed it with the girls, so we plan on moving him to it for next year.
We started Tae Kwon Do classes this year after recommendations from various people due to his ADHD. He is really enjoying them! He is also playing soccer (which he loves). We are still in speech therapy three times a week as I write this, but have plans to drop one session each week before the school year starts. He has made HUGE improvements in speech over the past year and we are SO proud of him.
Currently, he wants to be a farmer, a soccer coach, a preacher, and a cop 😉 We will see what God has in store for him as he grows!
Our Morning Basket Choices
We will have all three kids studying American History next year so plan on focusing on American History during our morning time activities.
During morning time, we will also be studying the Bible through church quiz bowl homework and the 10 minute Bible journey. 
And lastly our microscope choice. Yep, we found one we love and I wanted to share it with you! (unboxing video)
Those are our homeschool curriculum choices for the 2019-2020 school year. What will you be using? Any of the same choices? Please share in the comments!