Are you looking into a solid Bible curriculum to teach your children the word of God? Take a look at the five reasons we chose Apologia Bible Curriculum for our homeschool bible resource.
For us, bible time is an essential part of our day. We come together during our morning time and pray, study our bible, chat about our relationship with the Lord, and leave the table ready to tackle what comes our way.
It has always been important for me to teach my children about God, but to also nurture my children's relationship with the Lord. I want them to leave our home with their own faith, and their own understanding of God's plan and calling for their life. For us, the bible is more than just a subject to mark off of our to-do list, it's about building relationships with each other, and most importantly between my children and their savior.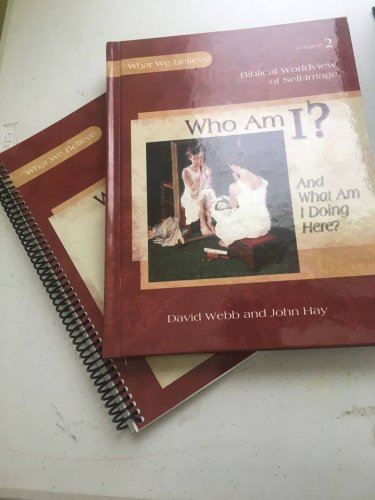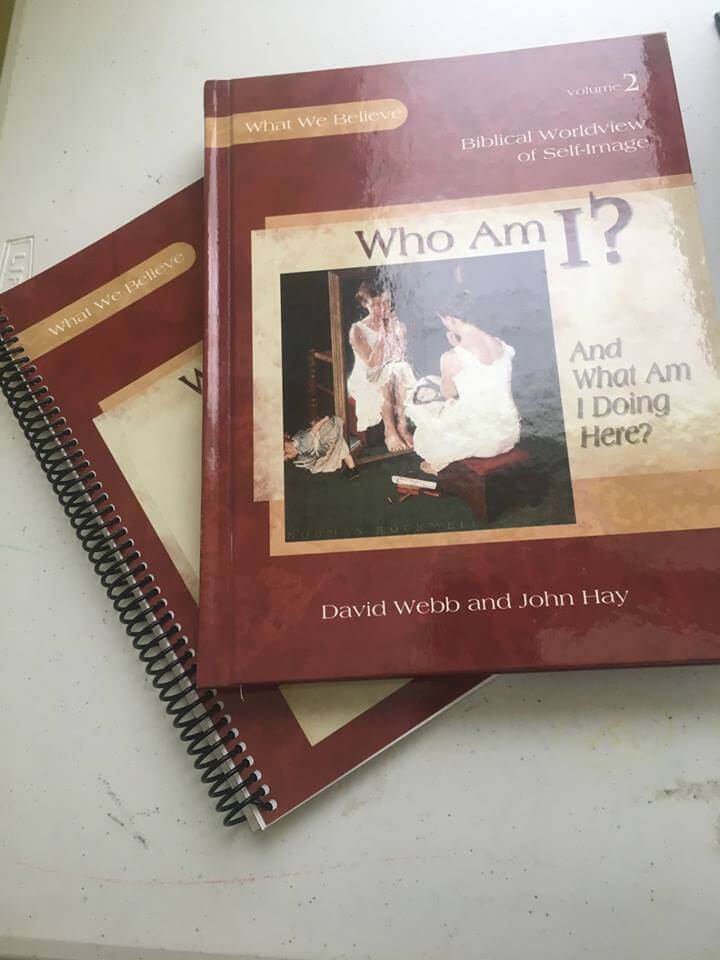 I was compensated for this post from Apologia Science, however, all opinions are my own, and we were using and loving Apologia  WAY before compensation was even a thought 😉 
This year for our bible study we have chosen one of the books in a series from Apologia titled What We Believe
The What We Believe series is an outstanding way to teach children the essential beliefs of the Christian faith, but it's so much more! With this beautifully illustrated Bible-based curriculum, your children will learn to use Scripture as the perfect lens through which to view the world around them and stand firm in the truth. Featuring engaging stories, creative notebooking, and fun activities, this four-part series is presented in a conversational style that makes the study of God's Word exciting and memorable for the whole family!
In this particular post I am going to be focusing on the second volume, Who Am I (And What am I Doing Here)?  I chose this volume because I felt that my kids had a good grasp of basic biblical concepts, and I wanted to focus on their specific callings and gifts. Particularly as my oldest enters high school, and my middle comes into her teenage years.
The other books in the What We Believe series include:
Who is God?
Who is My Neighbor?
What on Earth Can I Do?
If you are looking for a Bible curriculum that can help your children discern the truth in a world set on bombarding them with the wrong message, I highly suggest this series. Here are a few reasons why I believe it would be the perfect fit for your family.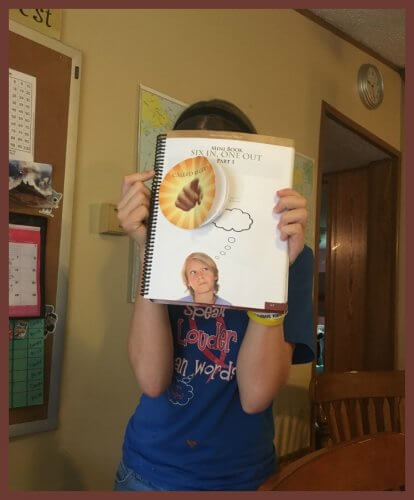 Bible Curriculum is Laid out easily
The curriculum from Apologia is laid out easily and requires little to no planning ahead. The Bible curriculum has a suggested schedule in the front of the notebooking journals. This suggested schedule will help you get through the curriculum in a year if you follow it three days a week.
This program can be used without the notebooking journal as well (although I love the journals and highly suggest them). Throughout the textbook, there are natural stopping points implemented by discussion questions and notebooking suggestions.
The lessons are designed to allow the child to learn at his or her own pace and is customizable depending on your family's interest level and attention span. Again, you don't have to follow their suggested schedule, but it is there if you choose to use it. For us, we set aside a certain time each morning for bible time. If we read one page and get to chatting about the concept that may be all we do that day.
Lesson Structure 
Each lesson in Who Am I  and the other books in this series include several key components to help you and your family draw closer to Christ. These components include
The Big Idea– This introduces the main topic of the lesson and reviews the topics up to this point
What You Will Do-The learning objectives for this lesson
Short Story-Each lesson introduces a child character and gives us a glimpse into their life, their differing worldview, and integrates concepts taught in the lesson. This helps us see what their worldview looks like in action.
Words You Need to Know-Important vocabulary terms introduced in the lesson
Hide it in Your Heart– Memory verses for this lesson
Integrated Learning-Articles with an age-appropriate approach to interdisciplinary topics related to the main text.
What Should I Do?- This highlights a specific godly character trait that was taught in the lesson and how we can respond appropriately to similar trials and struggles.
Prayer– Each lesson ends with a prayer where we can thank God for his blessings, and acknowledge what we have learned.
Worldview in Focus-The final portion introduces us to the concepts of differing worldview. These worldview studies help us to understand how people perceive the world around them. The main lesson focuses on the Christian worldview, however, these passages encourage us to understand the life of a child being raised in a different culture from us.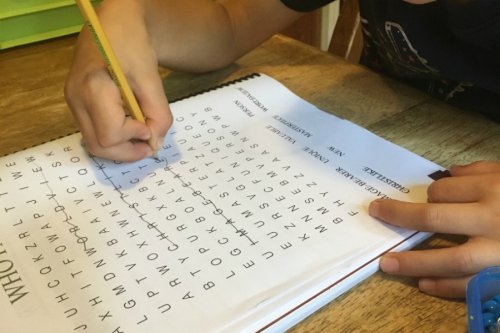 Apologia Can Be Used with All Ages
I love that we can all come together and learn as one. The text is written to the child in an easy conversational format. This means your children CAN take it and study it on their own if you choose. However, for us, we are using it together in our morning time activities.
The topics discussed in Who Am I have been appropriate for my wide age range of children (14 to 7), and even I have learned quite a bit from it. It truly is written to the family and is a great choice for all ages.
Audio Resource Makes Listening Easy
I am a work at home mom, so that means some mornings I may get tied up with work and we may start later than I intended. When this happens, I love that Apologia offers an audio version of this program. I can have it playing while I finish making breakfast, do up some dishes, or prepare the days lessons. This helps us stay on task, and frees me up to work on other things while we all listen to the lesson.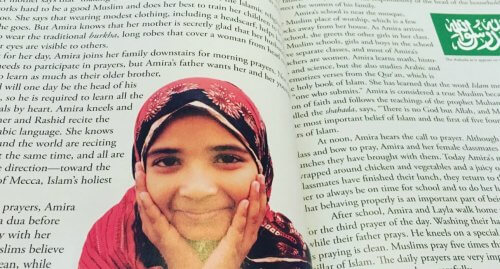 I Fully Trust the Resources from Apologia 
As I mentioned above, this series introduces other religions and worldviews. While I want my children to know and understand the Christian faith, I also want them to be aware of other cultures and worldviews. The question of how to introduce this has come up a few times. I love that I fully trust Apologia to do this in a gentle way that is not contrary to my Christian beliefs. I am comfortable introducing other faiths through this program because I trust the resources from Apologia fully.
One example is the story of Amira shown partially above. Amira is from a Muslim family and through her story we learned about the Qur'an, Islam, and Allah. We learned about their families daily rituals the pillars of Islam. At the end of her story, we were able to talk about the differences in her beliefs and ours. We compared the worldviews and had a deep discussion on the differences between Allah and the biblical Christian view of God.
These are discussions I had never had with my children before, but I wanted to have. Apologia helped make that happen.
The last thing I want to talk about is the notebooking journals. We have covered some deep topics with this bible study, and I'll be honest, my youngest (who is 7 and has ADHD) isn't always thrilled to sit through our discussions. However, one resource that makes it more enjoyable for him is the notebooking journals.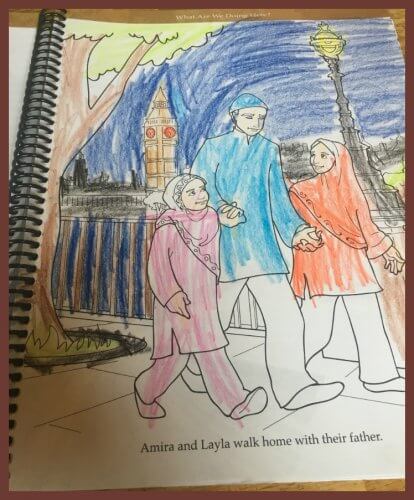 Notebooking is a fun tool that allows kids to personalize and capture what they have learned in an artsy way. We purchased the notebooking journals, but throughout the curriculum, there are areas that say "Make a note of it" and in these sections, students can write or draw what they've learned so far in their own notebooks if you choose to create your own.
The notebooking journals from Apologia include coloring pages (in the junior books), mini books, word searches, vocabulary pages, and so much more. They are a great way to keep little hands busy while discussing big topics.
Final Thoughts
These are just a few reasons why we use and love Apologia Bible Curriculum. There are so many resources out there to help you instill the word of God into your children's hearts. The next time you are considering a Bible curriculum I hope you take a good look at the amazing resources offered from Apologia.
PS: Want to see more from Apologia curriculum and the other resources we are using this year? Check out this video! The first few minutes show a peek inside the Apologia Bible curriculum. 
And head over to my Apologia archives for more Apologia curriculum reviews.