You may assume the kids know the basics and don't really NEED a writing program. However, here are a few reasons why you should use a great writing program!
Once the decision has been made to homeschool, the research begins. We start looking into curriculum for all the main subjects. Language arts, math, science, you name it and we research it.
But, often times we forget one important area of study.
WRITING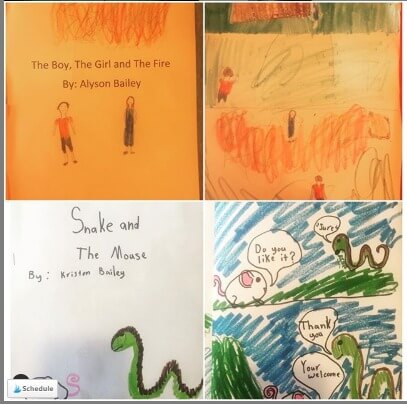 If you're like me, you maybe assumed it is part of the language arts curriculum. You may assume the kids know the basics and don't really NEED a writing program. And then reality will hit. For me, it came with my daughter's 4H project.
I realized she had no clue how to really set up a story.
She didn't know how to give the characters in her story their own personalities.
Her ending was lacking the oomph it needed.
Most of her story was dialogue and included short sentences with minimal descriptions.
All of these things would have been taught had we invested in a good writing program. So, I began researching writing curriculum. I began gathering up information that would help me make the right choice when it came to a writing program for my children. I found exactly what I was looking for in Write Shop.
Write Shop Offers Step by Step Instructions
 The first was that it offered step by step instruction and clear directions. Both for me and my children. While I love homeschooling, I don't like having to spend a lot of time prepping for our school day.  With Write Shop, I don't have to wonder what we are going to teach, how to teach it or spend a lot of time preparing lessons. Write shop is open and goes which is something this busy homeschool mom needs.
It can be used with multiple children
I wanted to be able to use the program for multiple children with different learning styles. Write shop offers this! It even includes a schedule of using multiple levels in the teacher's guide.  Right now we are using levels D and E yet I am teaching the girls together in around the same amount of time as if I was teaching just one.
Write Shop is Fun!
I'll be honest, when I first received the Write Shop program I was a little overwhelmed. There are games and hands-on projects, and to me, this didn't seem like a writing program? I was wrong.
Write Shop makes learning fun! The games teach valuable skills and really cements the lessons in our kid's memories. My girls still talk about the characters in their fable.  They also loved publishing their stories when they were done and this was a great opportunity to let their creativity shine!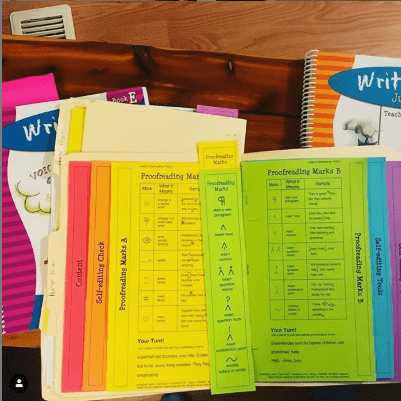 Self-Editing is Taught
One of the hardest things I have dealt with as I have become a professional writer is editing. I was never taught how to edit my own work. Yes, I may have been taught the basics of grammar, and yes, I took a few writing courses in college and high school, but in every class, our TEACHERS edited our work. We had little to nothing to do with the editing process.
I want something different for my kids. Write Shop devotes a lesson each unit to self-editing. This is a HUGE part of the writing process and a skill I know will last them a lifetime.
When looking for a writing program I knew what I wanted, and I believe no matter who you are you are going to want many of the same things out of a writing curriculum. For this reason, I highly recommend Write Shop. If you have questions about the program feel free to leave them below!