Hello! I hope you are all done with school, and ready for summer break! We officially finished up May 15th and then headed out for some summer vacation fun at Virginia Beach!
Colonial Williamsburg
Our first stop on vacation was visiting Colonial Williamsburg. I have wanted to go there FOREVER and was thrilled that we were able to finally go. However, I was a little disappointed overall.
Colonial Williamsburg is set up to be historically accurate to Williamsburg, Virginia before the revolutionary war. The streets and businesses are accurate to the times. It is a beautiful place to visit, and is a place I would recommend visiting with your family. However, I would NOT recommend paying for admission if you have small kids.
The admission prices gets you into three buildings, The Governor's Palace, The Capital Building, and The Courthouse. Everything else in Colonial Williamsburg is FREE! I knew this going in, and paid admission anyway. What I did not know is that those buildings require guided tours, with tour guides, in a group, and they last a LONG time. This is not a good idea if you have young children. Our group was all adults, which means my preschooler was a distraction to everyone in our group. So, we left and opted out of the other buildings when we realized that they were all guided tours similar to the Governor's Palace.
Despite this, we still had a fantastic time! If you visit, I recommend you go into the livery and obtain a child's scavenger hunt map. My girls LOVED this and at the end of the hunt were able to get a pin to remember their trip. Also, be sure to attend one of the reenactments. The staff is VERY into their roles, and we were able to talk to many of the characters and learn more about the time period.
I also recommend bringing a picnic blanket and a stroller if you have children younger than 5 or so. It is a LOT of walking. And, there are no picnic tables to eat a packed lunch on.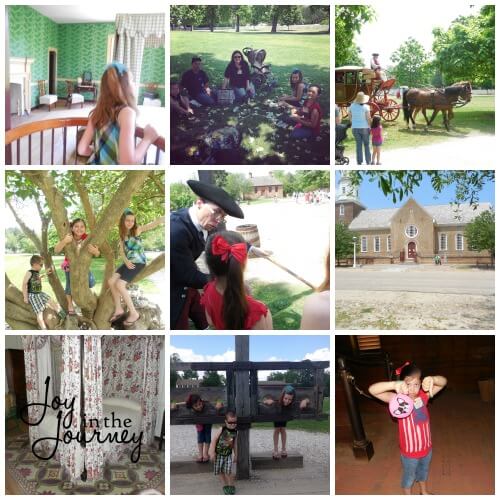 The Beach!
We stayed at the Boardwalk Resort which I HIGHLY recommend! Jackee gave us a fantastic rate on our one bedroom suite. We had 3 beads, an ocean view, and a full kitchen!  We were also able to have free parking and wi-fi. Which is a MUST because parking elsewhere can be upwards of $4+ a day. If you plan on visiting Virginia Beach, Atlantic Avenue is the place to be. We were literally able to walk out onto the beach and also had access to bathrooms when needed (which with kids, you WILL need)!
The best part of our beach vacation was seeing dolphins swimming along the beach. We didn't snap any pictures, we were too busy enjoying the view, but they do this every morning (we heard, we only saw them once!). Virginia beach is a VERY clean beach. We went down to the ocean early one morning hoping to get some good sea shells, and to watch the sun rise. At that time (6 am) they had already cleaned the beach. We were very impressed with how well maintained the area was.
Chincoteague Island
One of the main reasons we chose Virginia for vacation was because my middle was dying to see the Misty Museum. We have read all of the Misty of Chincoteague books, and I was named after the horse. So, we wanted to make sure we visited the island!
To get across to Chincoteague you have to go through the Chesapeake Bay Bridge and Tunnel. I have now done this once, and do NOT plan on doing it again. The bridge is very long, goes under the water a few times, and can be scary. My family got a kick out of the fact I almost had a panic attack crossing it….
*Tip: be prepared to pay a toll for crossing the tunnels. It is $13 each way.*
The first stop on Chincoteague was the Pony Centre! I was SO impressed with this place. It had TONS of Misty movie memorabilia and the lady who owns it was one of the friendliest people I met. On weekends they do horse shows, and they also have descendents of Misty on site. The kids loved meeting Misty III!
Our next stop was the Assateague lighthouse. This is a beautiful light house, but if you visit be sure to bring the bug spray. Otherwise you will not enjoy your visit. They offer tours of the lighthouse, but not while we were visiting.
As we left the Assateague lighthouse, headed to the beach, we noticed…. WILD PONIES! This made our day 🙂
We then went on to the Assateague beach where we had a peaceful visit. Afterwards we visited Tom's Cove Visitor Center. They have a touch tank with Horseshoe crabs, puzzles, maps of the area, and a tourist shop. It is a nice place to visit, and the staff answered tons of questions for my kids.
Our last stop was to Pony Tails where my husband had heard we could buy the BEST saltwater taffy on the coast. After trying it, he agreed! So, be sure to stop in there if you like saltwater taffy!
Cape Henry Light House
If you have never been in a light house before, then Cape Henry is a MUST see while in Virginia beach. Children need to be at least 42″ tall to climb up all 191 steps. Yes, that's right 191 steps! I recommend going when they open if you have small kids. This way you will have the lighthouse to yourself. Also, the lighthouse is on the army base, so they do search your vehicle before allowing you entrance to the light house. The views from the top are gorgeous and well worth the climb!
*Tip: Wear regular shoes, flip flops are discouraged*
Virginia Aquarium and Marine Science Center
I had mixed feelings about this aquarium. They do offer a homeschool discount (must show approval letter from state), but the whole aquarium is VERY evolution based. Most zoos and aquariums are, but this one even more so than others. They also are only open until 5, so we had to rush to get through the whole aquarium (we got there at 2). They do have tons of animals, and their shark exhibit is great! The kids loved the seals, and the otters. Their touch tanks are wonderful, and the staff were eager to answer my kids questions. Overall it was a good experience.

Falling Springs Waterfall
On the way home we stopped at Falling Springs Water Fall in Virginia. This is the most gorgeous waterfall we have visited, and if you are ever hanging out in Covington, VA I recommend you stop 🙂
I hope you enjoyed a peek into our vacation fun at Virginia Beach! If you have any questions feel free to leave them in the comments. Also, if you have visited Virginia Beach before, please share your top tip or favorite place to visit!