Do you want to homeschool through the holidays? Craziness! This holidays season say no to homeschooling through the holidays and embrace the life skills that come naturally through the holiday season.
Christmas break is here for most of us! I have been counting down the days until break because we are in need of some downtime!

But, I recently got a question from a reader and wanted to hop on real quick and answer it.
Holly asks,
"Do you ever feel so behind that you can't take a Christmas break? Life has gotten in the way this year and we are nowhere near where I wanted to be."
Confession? I have been there and now I ask myself why would anyone homeschool through the holidays? I tried this one year.  
It was a disaster. Really. I don't know what I was thinking but I definitely wasn't thinking logistically. Homeschooling through the holidays CAN be done. I'm sure. People blog about it. But, really no one NEEDS to do it. And that includes YOU.
Homeschool moms are ON all the time. We never get a break. Our jobs are 24/7 so believe me when I say the world will not end if you don't "do school" over the holidays. It will not end if you say no to those fun crafts, baking treats, or other things that Pinterest says you NEED to do on Christmas break.  We don't need an advent study, holidays around the world printable pack or anything else remotely related to "school" during the holidays. We need family. We need togetherness. We need REST.
The truth of the matter is our kids are learning all the time. And you can count those days between Thanksgiving and Christmas even if you never open a book. It's called life skills.
These skills can be found in the kitchen, through family relationships, character training, social skills, homemaking and much more.  Many of these life skills are ones that kids in our society today are severely lacking. We can fill in those gaps and focus on these important life skills throughout the holidays. And guess what? They are still learning!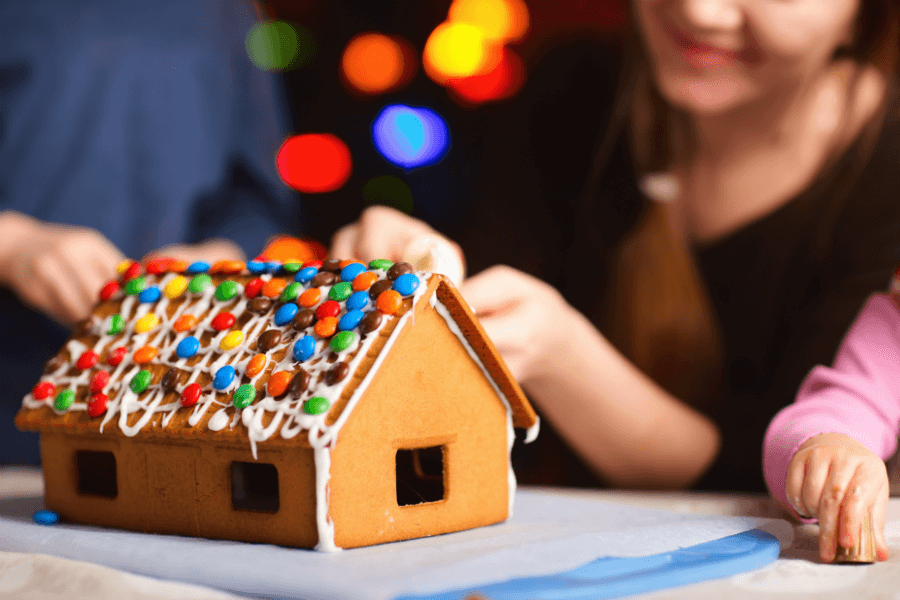 This is just a small snippet of this podcast about homeschooling through the holidays, be sure to listen to it in full by hitting play above. 
---
Now, before I leave I want to share that if you struggle with teaching life skills there is an awesome program out there that focuses on life skills and time together as a family.   
Skill Trek offers a fun 12 skills of Christmas pack that we did last year and had a lot of fun. Our favorite skill was making a Gingerbread house. The kids also learned how to wrap presents, find the perfect gifts, and make Christmas morning breakfast. All valuable skills that will help them now, and in the future. The bonus is they didn't even consider it "school"!  
And right now they have a giveaway going on where you can enter to win a free annual subscription.
---
So, are you ready for Christmas break, I am! I hope this episode encouraged you to take a Christmas break this year, and focus on the LIFE skills that come up naturally this holiday season. Taking a break will help you and your kids refresh and can help prevent that common homeschool burn out that rears it's ugly head in the winter.
Now, the question remains, what should you do on Christmas break?  Other than the life skills that will come up on their own this holiday season,  I shared some of my favorite FUN things in a post I will leave in the show notes. But, I will also add that you should do what YOU want to do. Don't do that craft just so you can snap a picture and put it on Instagram Do the craft because you WANT to share that moment with your kids (and don't feel guilty if you don't!). Read that read aloud that you LOVE to share each holiday with the family. Go look at Christmas lights on a school night. Do things that YOU and YOUR family find enjoyable. That will be different than what I do, and guess what? That's okay!
So, moms, as we wrap up this episode, I want to remind you that when you are browsing Pinterest and Instagram and see all these ideas on how to "homeschool through the holidays" please step away from the phone and say NO.
I will be taking my own advice and enjoying a nice holiday break until after the first of the year.
Season 3 of the Joyfully Homeschooling podcast will be launching January 4th and I can't wait to share with you all some amazing guests. Lined up already are interviews with Cindy West, Charlene Notgrass, Yvette Hampton, Julie Bogart and many more. You won't want to miss it.
Until next time I hope this encouraged you to head out there and have a more joyful homeschool.
---
If you liked this episode be sure to leave a rating or review. These serve as a notice to iTunes that I'm not speaking to myself. It will also give you a chance to have your review read online and win a gift from me 🙂 Not sure how to leave a review? Here are instructions for iTunes and Stitcher users.
Resources mentioned in this episode: