If you have been wondering how to teach multiple ages in your homeschool, Apologia makes homeschooling multiple ages SO simple and has allowed my kids to truly dig into and enjoy science.
As homeschool parents, if we have more than one child, we will without a doubt be teaching more than one age/grade at a time. This makes juggling the many roles of a homeschool mom a tad bit harder. I mean how can we be in two places at once? How can we teach a wide range of ages?
The answer to this is simple. Combine. Combine. Combine. Since we have begun homeschooling in 2009 my kids have been combined in one shape or form every year except this year (I explain the why behind this here and here).  They are currently 12, 10 and 5. Next year I will be combining some of my children again.
How do you do this you ask? Well, you just have to find the RIGHT curriculum. For us, one multi-level science curriculum that has allowed us to combine multi ages is Apologia Science. 
You can see my recommended Apologia elementary science order here. 
About Apologia Science
The Young Explorer Series from Apologia (learn how to homeschool with Apologia here) comes with optional notebooking journals that can be used to complement the program. These journals come in Junior (K-3rd) and standard (4th-6th) this allows older children to work at a higher level than their younger siblings but also means all children K-6th can learn together! This is a great homeschool science for multiple grades.
Head over here to read more about Apologia and see a video of their program.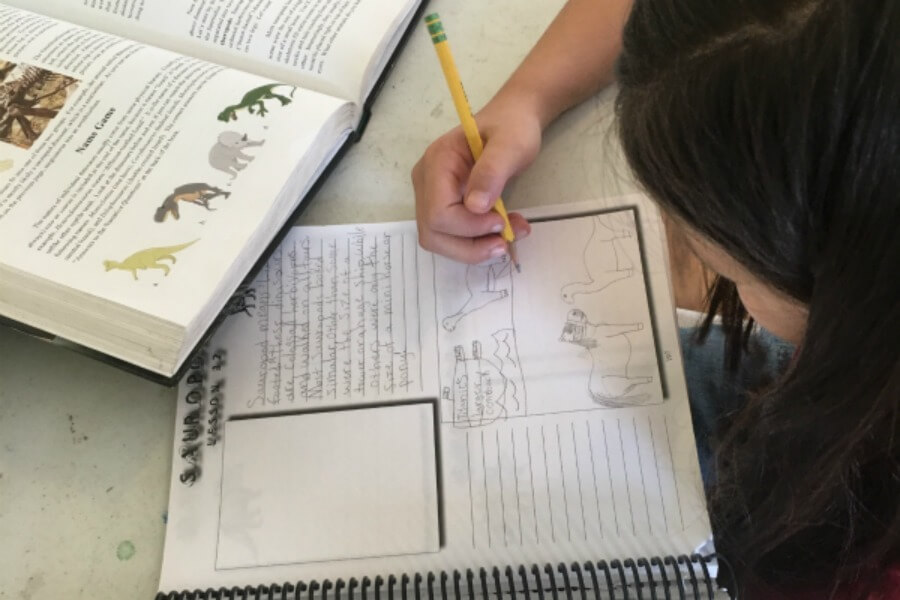 The Key to Teaching Multi-Ages with Apologia Science 
We have been using Apologia science since my girls were in Kindergarten and Second Grade. Next year I will be using the young explorer series with a six-year-old and a 5th grader. The key to doing this lies in Apologia's notebooking journals.
The notebooking journals from Apologia are a huge part of the program. They aren't mandatory, but they are highly recommended and are a huge help if you are wanting to teach multiple ages with Apologia Science.
The notebooking journals come in two options, the junior version, and the standard notebook. Here's how they differ.
The Junior Version:
Coloring pages
Copywork (these tend to be bible verses related to the unit)
Simple notebooking pages
Lots of cut and paste activities
Science experiment pages
Simple diagrams
The standard notebook:
Question and answer sheets
More difficult notebooking pages
Cut and paste activities that require more writing and vocabulary terms
Crossword puzzles
Science experiment pages
More difficult diagrams
Because the depth of the notebooking journals varies so much, the older children are naturally getting a more in-depth study than their younger siblings. This is done in a way that requires ZERO extra work from mom and allows children of a wide variety of ages to study one topic together.

Additional Tips for Combining Multi-Ages with Apologia 
The notebooking journals are a huge part of the program, but there are additional ways you can combine your children with Apologia. These can be done with or without the notebooking journals.
Allow older children to read to younger children. This ensures they are reading the text, frees time up for you, and allows siblings to spend some quality time together.
Do all the experiments together.  Apologia offers a wide variety of experiments in each unit of their young explorer series. You can pick and choose which ones you want to do. They are geared towards ages K-6th. If you are using Apologia with multi ages I highly recommend the whole family do the experiments together. This includes the ones that may be a little over the younger one's heads. You would be surprised how much they learn even when you think they may not understand. This also means to do those more simple experiments that you think your older children already know. Put them in charge and have them help their younger siblings. I also highly recommend the Apologia science kits from Nature's Workshop.
Let the older TEACH the younger. My friend Kim from Not Consumed Homeschool has a great post about the benefits of older children teaching their younger siblings WITH Apologia curriculum. You can check that out here.
Let each child work independently.  Amy at Raising Arrows has decided to wait on adding science until each child can read the text independently (around 2nd grade) she has also chosen to combine multi ages without using the notebooking journals. You can see how she does that here. 
If you have been wondering how to teach multi ages in our homeschool, I hope this has encouraged you that it CAN be done. Apologia makes homeschooling multi ages SO simple and has allowed my kids to truly dig into and enjoy science.
Head over here to learn how to use Apologia science curriculum.
How many ages are you homeschooling this year?