Are you looking for a foreign language program for your kids? I have found the BEST foreign language program for kids and it can be taught in just 10 minutes a day! 
I've shared before how my oldest has been begging me to learn Spanish forever. She has had a HUGE desire to learn it. We tried Rosetta Stone, and while the program is good, it wasn't what SHE needed to learn. We tried out a few other programs as well, but none really fit the way she learned.
I had heard about a program called Foreign Languages for Kids, but if I'm honest, I didn't think it would be enough. I mean it looked TOO fun. And learning Spanish shouldn't' be fun right? However, when the opportunity to try out the curriculum came up I figured I'd give it a try. work for the company came around I decided I better give
In just a few weeks I was eating my words. Foreign Languages for Kids is the absolute BEST program out there for Spanish.  Don't believe me? Try it out FREE for 48 hours.
Yes, I'm serious. It really can only take 10 minutes a day. How is that possible? One word: Immersion!
Immersion is KEY to learning a foreign language. In order for a student to learn a foreign language, they must have to use it in a meaningful, real-world way. The videos are spoken ALL in Spanish. The children in the videos are going throughout their daily activities. This IS a real world approach. This is more relatable to children than the more common teaching methods like rote vocabulary memorization.
Another area that makes Foreign Languages for Kids different is that the whole family can learn together.  That means those words your child picked up on in that five-minute video clip will be known by each child in the family and YOU. So, when your child comes up to you and says "grande" you will know what they are talking about. When your child asks a sibling for a libro he will know what he means because they are learning the words together.  Not one by one on the computer or with mom going from child to child using a workbook. One program. One lesson. Together.
The Program Was Actually Created FOR Kids! 
Many of those other programs out there are not meant for kids. They were created for adults, and are now packaged and sold to the homeschool community. Foreign Languages for Kids is different.
Foreign Languages for Kids by Kids® was created to give parents a fun and easy way for their children to learn Spanish.
Kit Strauss founded the program when she was unable to find quality foreign language products and programs for her three sons. The video series incorporates a teaching style that combines immersion with visuals – adding a good dose of humor and fun.
Foreign Languages for Kids is a fun program. It is not another task to mark off of your to-do list. It offers hands-on games, learning activities, colorful workbooks with hands-on teaching ideas, and much more.   If your kids are like mine they will not complain about learning Spanish! They may even BEG to do it!
My Kids are Learning! 
We have been using the program for about 5 months and my kids are actually LEARNING Spanish. Actually, they aren't just learning it they are speaking it on a daily basis. They are talking to each other in Spanish. They are talking to me in Spanish. They are talking to their friends in Spanish.
They are LOVING Spanish! One of the best parts of the program is that it takes words our kids will use on a daily basis and teaches those words through immersion. Foreign Languages for Kids isn't just teaching vocabulary terms that our kids will never use, it is teaching them REAL words that REAL kids use on a regular basis. This means your kids will actually BE learning Spanish. Believe me!
It Teaches More Than Just Spanish! 
One thing that I didn't know about Foreign Languages for Kids until I began using the program is that it teaches SO MUCH MORE than just Spanish! The videos take you through different countries like Colombia and Peru. While visiting those countries your kids are learning about their geography, traditions, and culture. For example, did you know that in Colombia they eat grapes while wearing yellow underwear to celebrate New Years? I didn't either, but we do now thanks to Foreign Languages for Kids!
Guys, my kids are absolutely loving Foreign Languages for Kids, and I think YOUR kids will too! I encourage you to check out their free trial for 48 hours. The online program will give you a good idea as to what you will expect with the program.
If you have any questions about Foreign Languages for Kids leave them here or shoot me an email. I'd love to answer them for you. You can also check out Foreign Languages for Kids on Facebook!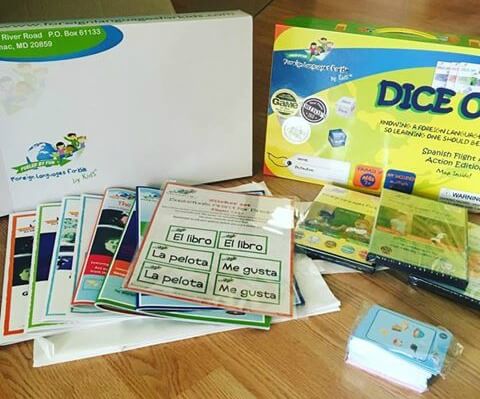 Do you teach a Foreign Language in your homeschool?