Do I think everyone should test? NO! Do I use standardized testing for our kids? Yes! Why? Here are 4 reasons why we use homeschool testing for our kids.
When homeschooling first came on to our radar, my husband was adamantly opposed.  Yet, after time and prayer, he reluctantly agreed to try it out. However, homeschooling came with stipulations. One of those stipulations was that I would be required to standardize test our kids. Now that he is 100% pro-homeschooling, we are still choosing to opt into homeschool testing.
Do I think everyone should test? NO! Do I think homeschool testing gives a truly accurate portrayal of what my kids know? NO!  Do we choose to test anyway? Yes!
Why?
Here are 4 reasons why we do homeschool testing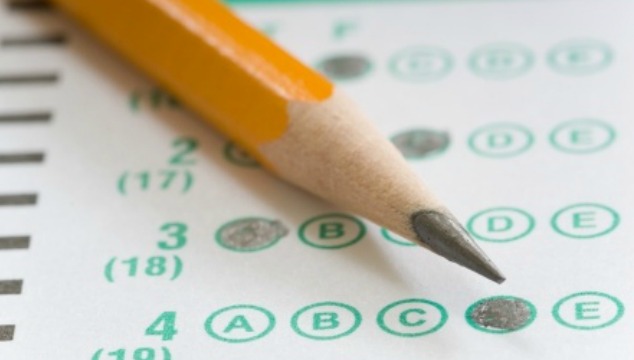 Accountability
Standardized testing provides me with accountability. I am pretty strict when it comes to our school schedule, but have to confess that sometimes it's easier to chalk school out the window. Especially when we have had days of sickness or times of busyness. However, knowing we test at the end of each year, requires me to be more accountable.
Our State Requires Homeschool Evaluations
In Ohio, we are required to submit an evaluation each year. One option is standardized testing. Homeschool testing seems like the natural option since my husband prefers our kids to test anyway. Be sure to look into whether or not your state has homeschool testing requirements.
Homeschool Assessments Provide Validation
We skipped testing one year and opted for the alternative-portfolio review. Honestly, it seemed almost too easy.  Also, I have family who is adamantly against homeschooling. And, I realized I missed the validation on paper of "knowing" my kids were keeping up.  Now, I am not against this option AT ALL. But, for me, the validation (whether right or wrong) is worth the cost and time of the testing.
Homeschool Testing Provides Better Long-Term Possibilities
If something ever happened and our kids ever had to go to public school, we would have records of their testing scores. Also, if our kids go to college, plan on taking the ACT, or are required to someday (by the state) take these tests they are experienced in them.
Homeschool testing is not for every family and is not always appropriate. But for us, in this season we choose to test our kids.
Still not sure? I weighed lots of the state standardized tests pros and cons in this post on the Southeast Homeschool Expo.
Homeschool Testing and Special Needs
I do have a son who has special needs. We have not tested him yet at this point. He is 7. I do not believe standardized testing should cause anxiety and I also believe it should be done in comfortable circumstances. Neither of this would fit my son and his needs. We will evaluate whether or not he is ready for testing each year. I do plan on testing him at a time that will be right for him.
Additional Thoughts on Standardized Testing in our Homeschool
Now, I know I will get comments and questions regarding this so, in advance, I want to share the following things.
We go through homeschool testing services called Family Learning Organization. They offer many different nationally standardized tests.
We have used the CAT5 and the TerraNova. These testing options allow me to test them myself (I am the proctor, they are the administrator).
We test at home, and for a week.
We break up the days and the kids only test about an hour and a half each day. This is less than our normal homeschool day.
We don't put a huge emphasis on the scores.
We do NOT teach "to the test".
Homeschool Testing Option for Homeschoolers
If you are evaluating your homeschool assessment options. Testing is, of course, one way you can assess your homeschoolers progress.   However, not all standardized testing options are equal. Some are online, some require a licensed teacher, and some companies have even more specific requirements. This post from the Southeast Homeschool Expo breaks down a few options for homeschool testing. 
Do you test your homeschooler? Why or why not?