Looking forward to a summer off? Me too! However, I was also worried about the summer slide when it comes to math. But, not anymore! Beat the summer slide with these math worksheets for homeschoolers.
If your family is like many other families, you all are looking forward to the break that summer tends to offer.  The days less filled with must do curriculum, co-ops, projects, and the like. Summer often represents fun in the sunshine.  We all look forward to time away from the books.
Honestly, when I envision what summer has to offer our family, it doesn't look like a lazy beach day with long division tied in. It definitely does not look like lugging our computers along with us on a road trip so we can get in a few more lessons on Teaching Textbooks.
But, the reality is that studies have found, that regardless of the socioeconomic level of a child, on average, students lose around 2.6 months of learning in math over summer.
What does that mean? It means we spend weeks at the start of the school year catching up due to summer learning loss.
That is craziness! Now, I know we are all homeschoolers, and many of us will say, "well, we keep up with reading and math all summer long", do we really? I mean reading, yes, of course. But, math?
An article from the Harvard Graduate School of Education shared this, which for me, I have found to be very true,
Many parents — and their children — don't think about math as existing outside of the classroom. "Parents often think that their kids learn math in school, and that it's sort of the school's domain," says Harvard Graduate School of Education (HGSE) doctoral student Kathleen Lynch.
Now, yes, we homeschool, but when we are not "in school" it is very hard to get my kids to think about math. They can pick up a good book and read all summer long, but they are not going to be practicing their math skills on their own.  
The truth of the matter is, I need to do better, and maybe you do too.
I was compensated for this review of Study.com. But, all thoughts and opinions are my own.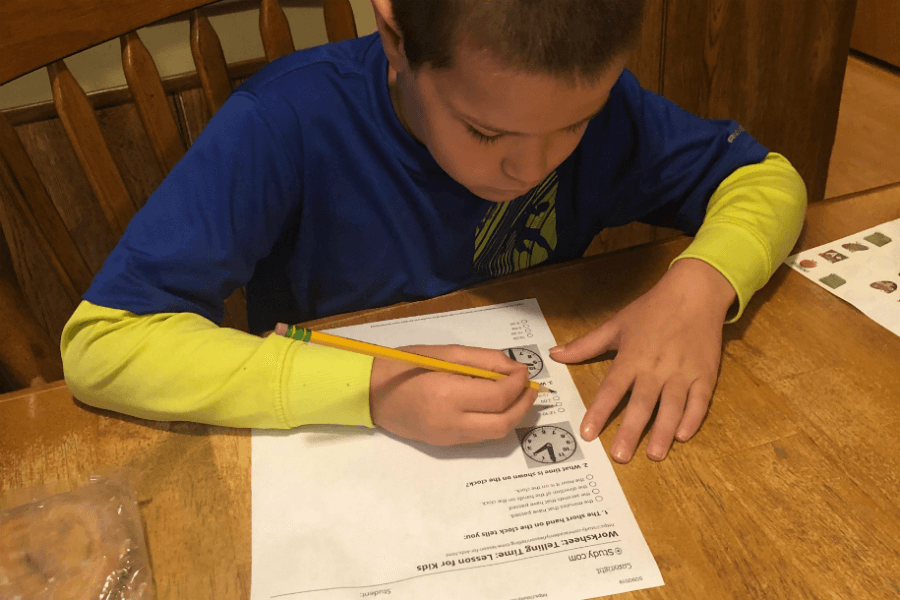 Does Your Child Need Math Help? 
Do any of the following sound familiar in your home?  
Your child struggled with certain concepts during the school year and didn't quite grasp them fully.

A child struggles with paying attention during math lessons

Did your child begin to dread math each day and feel like they were just NOT good at it?
Children who struggle with math will likely continue to struggle unless they get help in the areas they haven't mastered. None of us want our children to fall behind academically, and a child who struggles with math can lose confidence in their abilities. I have seen it happen in my home. Watching a child's self-esteem lower because they are struggling is not something any parent wants to see.
How to Prevent Summer Slide
The old saying that practice makes perfect holds true for learning. The more a child practices what he's learning, the more likely he is to improve his skills. And guess what? Study.Com is an invaluable resource for homeschool parents like us. Their math worksheets are perfect for helping a child improve in math.
My son struggled this year in a few areas of math. This came across clearly when we completed our yearly standardized tests. Telling time was a HUGE struggle as was identifying coins. With Study.Com I was able to search for the worksheets I needed, print them off, and place them next to our dining room table. This is an easy way to work on those struggling skills throughout our busy summer.
By taking a few minutes each day to sit with our kids and study what they are struggling with we can help them improve their math skills over the summer. This will help them be better prepared when school starts back in the fall and can help them gain more confidence in their ability to do math.
Printable Math Worksheets from Study.Com
Now, I had heard of study.com many times before. But, I had NO clue what a huge resource library of math worksheets for kids they had available. Study.com is a comprehensive math resource site for homeschooling parents, teachers, and anyone else that may need math worksheets. They offer fun math lesson worksheets and printables.
All of Study.com's worksheets are listed by grade levels, or you can search for a specific topic you may be looking for. On Study.Com you can generate printable math worksheets on a wide range of math topics.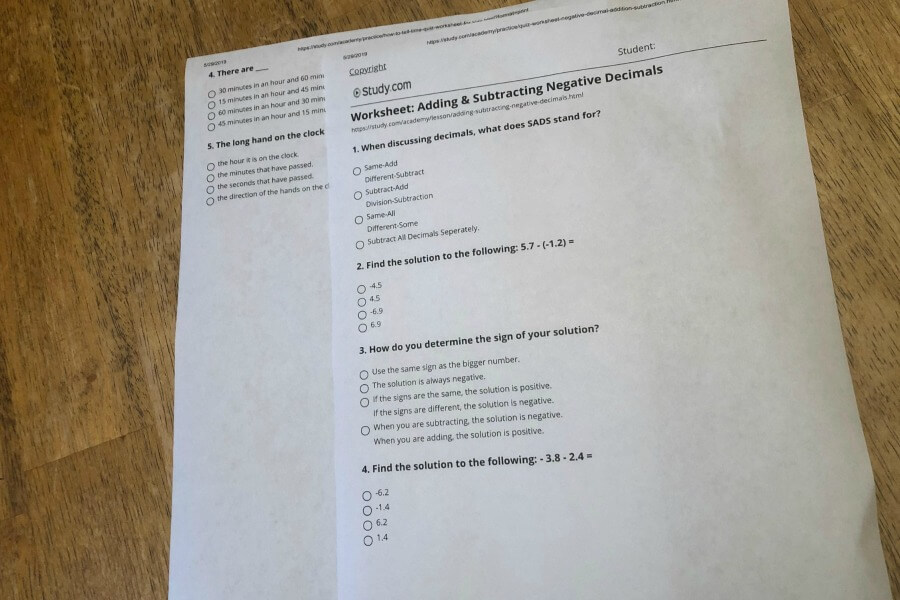 I am so thankful that Study.com has put together this resource page focused on math worksheets for grades K-12. Their worksheets help reinforce key concepts across the full range of math topics. Pre-written questions with answer keys help students practice with easy-to-grade answers available.
The truth of the matter is, I am NOT a math person. At all. My kids aren't either. But, math is going to be a part of our children's lives forever. So, we want them to have a good grasp on the skills needed to succeed. Right? I know I do.
And Study.com can help me beat that summer slide and equip my kids for a brighter future, or at least help them struggle less when school starts back in the fall.