The early homeschool years are supposed to be full of wonder. We want our kids to engage in learning with good books and lots of fun. Here is a way to do just that!
I shared on the blog a few years ago about my biggest homeschool regret. And, that regret is what has led me to share this resource below with you all. When the Wisdom Wonder Project emailed me many months ago and asked me to review their new literature-based curriculum, it encouraged me so much. .When I first began homeschooling I wanted simple. I wanted to read books and cuddle my kids and have this environment that encouraged a love of learning. 
But, instead, I pushed, and I bought a bunch of textbooks. I stressed myself out over test scores and public school standards. I didn't really LOVE homeschooling. And my kids didn't either. And they were young. SO young. My son has had a different learning environment because I know better now. And, Moms, if you are having regrets in your homeschool journey can I encourage you today? You can STOP the path you are on. You can turn around and restart. There is no time like the present.  And guess what? The world will NOT end. It will keep going, and with it may come a more joyful homeschool journey.
And, today's resource is one that I think will rock the homeschool world. I really do. 
 Today I am introducing you all to the Wisdom Wonder Project. 
The Wisdom Wonder Project offers easy to follow, home-based learning curriculum packets for families. The goal is to share it as a resource for families that will enable them to share a teachers' wisdom and wonder with the world.
Who This Program For
This program is for any homeschool family who wants to introduce their kids to the idea of classical education, and who is committed to sharing a love of history and literature in their homeschool. The reading and discussion of great books is a hallmark of the Wisdom Wonder Project. Math and science are taught in a logical and systematic way to build towards mastery of mathematical and scientific language and concepts. Children are challenged beyond simply utilizing algorithms to solve problems and instead are taught to think mathematically and scientifically.
But, in addition to this classical education with a twist, the Wisdom Wonder Project also focuses on family involvement and play. They are passionate about the pursuit of learning. So, if you want any of the following in your homeschool, Wisdom Wonder Project may be for you:
You love the idea of planning your homeschool around good books
You want your kids to enjoy learning
You believe l

earning should be active

You want p

lay and outside time to be prioritized

You want learning to engage your child's senses and their hearts
Every child is born a learner and can enjoy learning, and we must nurture that love of learning to keep it aflame. 
The Benefits of Wisdom Wonder Project
I really wish that Wisdom Wonder Project was around when my kids were younger. It is EVERYTHING I would have wanted in a program when I was teaching lower elementary ages. I was actually very excited to break out this program with the preschool class at our local homeschool co-op, but COVID happened.
However, I can still share with you all a few benefits that I believe this program will offer the homeschool community.
The introduction of powerful stories that will make us all more compassionate

The belief that we can change the world

A classical education approach that coincides with the Charlotte Mason approach. These can be drawn upon while teaching our children by using this program.
It is laid out step by step meaning mom can open it and go
It makes learning FUN
Takes the stress off of mom by having everything laid out for you.
Flexible enough for you to pick and choose what lessons and what types of lessons you want to do with your kids
One thing that stood out to me when I looked over this program is that it takes a simple book, and lays out TONS of activities and ideas to incorporate WITH the book that is fun and interactive.
For example, let's look at the book They All Saw a Cat by Brendan Wenzel.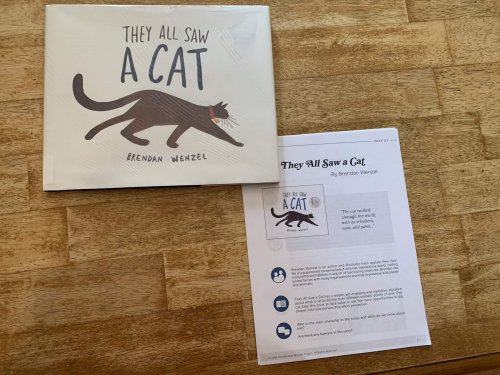 I am NOT creative at all. So, I would just read this book and that's it. Wisdom Wonder Project expands the learning through the book. The kids learn math with straws, they find shapes throughout the book, they talk about prominent colors and discuss texture as an element of art.
There are also suggestions for sensory play, block play, creating fruit mice or cat collars and SO much more. You can pick and choose what you want to do with your kids based on their interests and what supplies you have on hand. It is truly an open and go program! The early homeschool years are supposed to be full of wonder, and Wisdom Wonder Project allows your kids to experience just that.
What Resources Wisdom Wonder Project Offers
The Wisdom Wonder Project offers subscriptions and lessons for three levels: Preschool, Junior K, Kindergarten, 1st and Second grade. They like to call those early ears the Pre-Grammar stage––the first of its kind, they designed their program around children's' developmental stages at these ages, just like the traditional classical model does. Each subscription will you give access to all three years of content, allowing you to move in the direction that is right for your child(ren). At this table, we have Literature as our main course, served up with sides like Little Masters (Art) and Block Play. You can see more about this option here. 
They are also offering summer packs that are perfect for the parent who is wanting th kids to stay engaged and entertained over the summer break.  These summer packs, full of rich content and activities. Take a break from more structured great books and delve into the world of Fairy Tales, explore freeform art in Scribble! Stick! Splat!, or take block play outdoors and build with other mediums with Fairies, Forts, & First machines. Each Pack contains three monthly units: June, July, and August.
I hope you enjoyed this sneak peek into the Wisdom Wonder Project. Be sure to check it out. I can't wait for it to rock the world of homeschooling.  I also chatted with the cornerstone contributor on the podcast, so be sure to check out that episode. We talked about literature, homeschooling, and SO much more. It is a GREAT episode!