One thing that has been extremely important to our family is raising kids who have an eternity mindset. When we began homeschooling years ago we felt strongly that God was calling us on this journey. As our kids have gotten older, and our culture has gotten more out of whack, it has been important to us to raise our kids to know and love the Lord. We want them to know that God put them here for a purpose.
One way we have aimed to raise eternity minded kids is by exposing them to Christian role models from the past. We have loved reading stories of missionaries, and heroes of the faith with our kids for homeschool morning time. One book we have been reading this school year is Eternity through the Rearview Mirror: How Simple Faith Changes Everything—Seventeen Extraordinary Lives by Annette Hubbell.
I was compensated for this review of Eternity Through the Rearview Mirror. But, all thoughts and opinions are my own.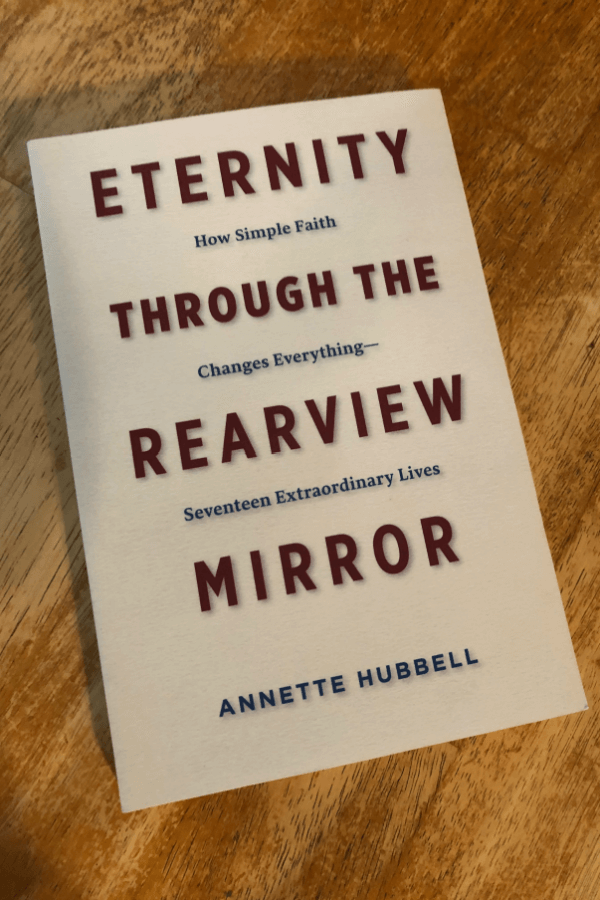 This book is a collection of spellbinding, first-person conversations with 17 historical figures, from Galileo to Johnny Cash, who invite you to experience the transformative power of ordinary faith. Let the evidence speak as these heroes, who credit God for their accomplishments, reveal the secret to eternity's timelessness.
The Christian role models included in this book are:
Galileo Galilei 
 J. S. Bach 
John Newton
Elizabeth Fry
Sojourner Truth
Abraham Lincoln
Harriet Beecher Stowe 
Harriet Tubman
George Washington Carver
Amy Carmichael
Mary McLeod Bethune
Aimee Semple McPherson
Corrie ten Boom
C. S. Lewis 
Gladys Aylward
Louie Zamperini 
Johnny Cash
Each of these seventeen world changers all publicly acknowledged that GOD was the source of their accomplishments. Their lives illustrate that anything is possible alongside the power of God. Their stories can inspire us, motivate us and remind us that with God we can do all things. They are amazing role models and their stories deserve to be shared with our own eternity minded kids.
We had read stories from a few of these characters and still found new tidbits of information. However, my favorite chapter by far from this book is the last one. In this chapter, Annette introduces us to the fact that everyone has a role to play, and challenges the reader to be the eighteenth story and to ask themselves what God can do through us. This chapter gave me chills, and I so enjoyed reading it with my kids.
Disclaimer: If you have younger or sensitive children, be careful with your choice of chapters. Many of these Christian role models faced very challenging circumstances. While their stories are important, you may want to read the chapters first and save some for your older children.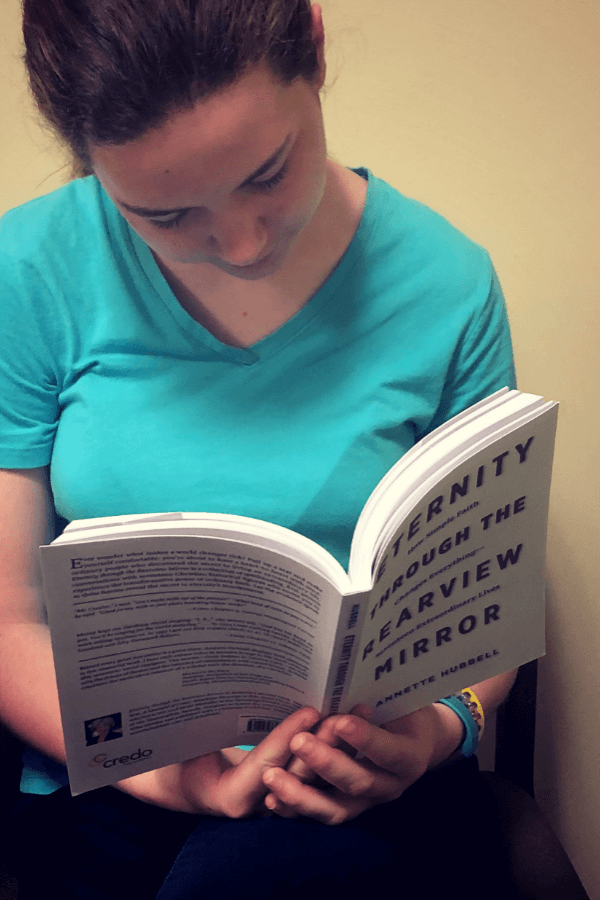 Sharing Christian Biographies in our Homeschool
One of our most important roles as parents is to raise children who think outside of their own little world and who have a desire to serve and love others. We want our children to have a desire to be the hands and feet of Jesus. We believe God has given each one of us a job. To serve. Right, where we are. This will look different for each of us, but the goal of fulfilling the great commission is the same. We want our kids to have an eternal perspective.
 I love how Annette's book, Eternity Through the Rearview Mirror, shares the stories of these Christian historical figures and their extraordinary faith. Having Christian role models who fulfilled their calling from the Lord is so important for our kids to have.
I would never again aim to please anyone but God, for nothing could ever matter again but the things that were eternal. ~Amy Carmichael
We take time each morning to read a biography together. The stories in this book are written as if the characters themselves are telling their story. Annette has done a great job of bringing their stories to life. We felt like we were with Amy in India, saving precious gems from the Hindu temple. The cold reality of the Holocaust came to a head while reading the story of Corrie Ten Boom. We cried as she displayed faith and forgiveness time and time again.
These are stories that will have an impact on the lives of our children. THESE are the stories that will help them realize that they too can experience the transformative power of ordinary faith. They can have an eternal impact.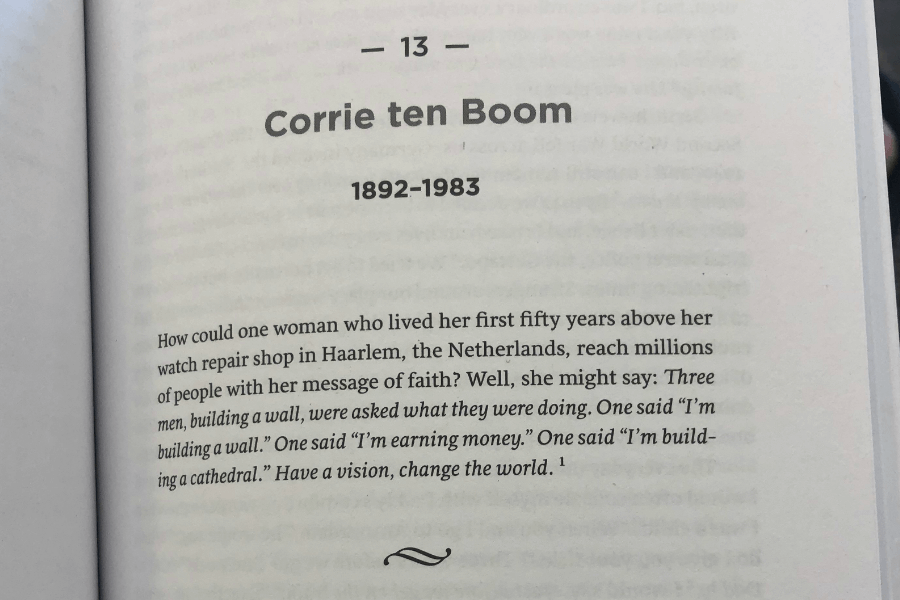 Learning History Prepares Us for the Present
It is so important that our children have an understanding of history, so they can be better prepared for the present day and the future. When we teach our children about historical figures and how God helped them, we can have a better understanding ourselves of how God can use us to share the gospel in the present.
Annette shares the stories of these Christian role models, and through her book, she truly brings history to life. We learn about the individuals and their impact on history and the culture in which they lived. Our children begin to find traits in these individuals that they too can relate with. My oldest has become a huge fan of Amy Carmichael and did a whole presentation on the need for missionaries in India at our homeschool group. My middle has become interested in WW2, and the history of the Holocaust because of Corrie Ten Boom. My son has expressed a desire to read the Chronicles of Narnia due to the stories of C.S. Lewis and has been enjoying Johnny Cash music with his dad as well. We have learned so much about these historical figures and I am so thankful that this book has introduced us to the stories of so many wonderful Christian role models.
 Eternity Matters
As we seek to raise eternity minded kids, we know we are discipling them to love and serve Jesus. While we may be okay with their love for sports, reading, or the outdoors, our greatest goal in life is that they know and love God. That they will have a knowledge of His word, and a desire to seek His calling for their lives.
Giving our children Christian role models to look up to, sharing with them stories of those who focused on eternity, not their present day circumstances, is SO important.  Raising a child who advances on the soccer field, places in 4H, or has straight A's are all great accomplishments as parents. But, one day those accomplishments will cease to hold meaning, they will pass away and be forgotten.
What will matter is the way we and our children loved God and served those around us. The stories in this book from Annette Hubbell will help get that meaning across to our children.   
To learn more about Annette Hubbell and her book, Eternity through the Rearview Mirror: How Simple Faith Changes Everything—Seventeen Extraordinary Lives follow the links below.
Annette also has an amazing book that I personally have enjoyed as a busy homeschool mom looking for some bite-sized spiritual encouragement. A Spoonful of Grace: Mealtime Blessings in Bite-Sized Pieces can also be found on Amazon or at Annette's website.